1. Hanford Dixon (1981-89) — A first-round draft pick, a three-time Pro Bowler, a Cleveland Browns Legend: Dixon is all of those. But make no bones about it, his best appellation is that of Top Dawg, the originator of a classic nickname and an attacking attitude that defined the Browns' stout defense of the '80s and inspired a new breed of fan loyalty. Dixon and his fellow corner, Frank Minnifield, didn't just cover receivers, they mauled them, getting the most out of the five-yard chuck rule. In Week 15 of the 1986 season, the 10-4 Browns went to Cincinnati (9-5) seeking to avenge an earlier 30-13 defeat. Dixon picked off a Boomer Esiason pass and limited star receiver Cris Collinsworth to one short catch, as the Browns routed the Bengals and their league-leading offense, 34-3, to win the division. Another of his many career highlights: intercepting Terry Bradshaw three times in a 1982 win (listen here).
2. Frank Minnifield (1984-92) — With his arrival from Louisville by way of the USFL, the Browns defense improved to rank second overall, third against the pass. Rather than a dominant middle linebacker or a fierce pass rushing end, the Browns' excellent defenses of the '80s began with the gritty bump-and-run coverage of Minnifield and Dixon. It's hard to find much space between the two in terms of their abilities. Minnifield was super speedy but just 5'9″ and 180. He "only" had 20 interceptions, but then again teams knew better than to pick on him. The four-time Pro Bowler was selected to the NFL's All-Decade team for the 1980s. Even the newest generation of Browns fans is sure to enjoy this sound clip: Minnifield taking a Sean Salisbury pass to the house in the 1987 playoffs.
3. Warren Lahr (1948-59) — Not many gridiron stars played their college football in Cleveland, but this Western Reserve grad sure made good taking his act locally. Picked by the Steelers in the final round of the 1947 draft, Lahr spent his entire pro career as a Brown, racking up 44 interceptions (second in team history to Thom Darden). His five career touchdowns on INT returns are a franchise best, as are his four playoff picks (one of which was the last play of the 1950 championship game). One of his eight interceptions in 1950 came against the defending champion Eagles. The Browns and their offensive juggernaut won their NFL debut in Philly, 35-10, but the rematch in Cleveland was a wet and muddy affair. On the third play from scrimmage, Lahr dashed 30 yards down the sideline with a Tommy Thompson pass for the Browns' only TD. They won without benefit of a single forward pass. After his long playing career, Lahr partnered with Ken Coleman as the team's TV announcer from '63 to '67. But sadly, he died of a heart attack in 1969 at age 45, leaving a wife and five daughters.
4. Erich Barnes (1965-71) — At Purdue, he battled Illinois' Bobby Mitchell in track events, presaging their many NFL duels. He also caught a 95-yard TD pass from another one-time Brown, Len Dawson. Long, lean, and graceful — but plenty aggressive — Barnes was traded to Cleveland at age 30 after some outstanding years with the Bears and Giants. 18 of his 45 career INTs came as a Brown. More important, though, was the veteran leadership he provided to the Browns' young secondary of the late '60s.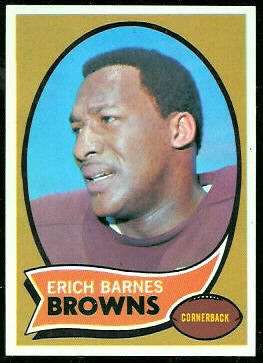 5. Clarence Scott (1971-83) — This first-round pick played his first eight years at cornerback, garnering 25 of his 39 career interceptions. One of the fixtures of the Browns defense of the 1970s, along with Jerry Sherk, Tom Darden, and Charlie Hall. Between 1969 and 1985, he was the only Browns CB to represent the team in the Pro Bowl. Played his last five years at safety, earning my #9 ranking at that position. His 178 consecutive games is the longest string of any Browns defender.
6. Tommy James (1948-55) — Another one of Paul Brown's favorites from Massillon High and Ohio State, James was a fleet defender on those legendary Browns teams. Though just 5'9'' and 178 pounds, he wasn't afraid to lay some licks. (He switched to play safety his last two seasons.) He also got his share of picks, 34 in all, including nine in 1950. Twice he intercepted three passes in a game, the only Brown to do so until Anthony Henry in 2001. Selected to the 1954 Pro Bowl.
7. Don Paul (1954-58) — Acquired after four years with the Chicago Cardinals, this playmaker from Washington State made the Pro Bowl three of his five seasons as a Brown. Produced 22 interceptions, including 7 for 190 yards and a TD in 1956. Career highlights include a 65-yard return of a Norm Van Brocklin pass for a score in the 1955 championship game win over the Rams, a 60-yard punt return TD against his former team earlier that year, and a team record 89-yard TD after scooping up a Steeler fumble in a 24-0 shutout in 1957.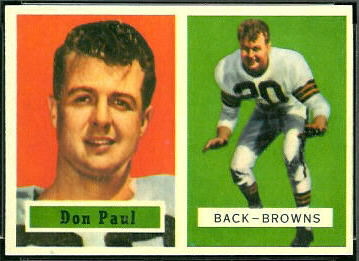 8. Bernie Parrish (1959-66) — Only two men named Bernie have played for the Browns, and both were standout performers. (Coincidentally, they both played their college football in Florida and made their next pro football stop in Texas.) Parrish's 29 INTs puts him fifth on the Browns' all-time list, and his 557 interception return yards are third. 92 of those came on one play during a 42-0 rout of the Bears in 1960, the first of his two Pro Bowl seasons. In 1964, the Browns were on the verge of losing their second straight game and falling to 3-3. In Dallas, down 16-13 in the fourth quarter, Parrish returned an overthrown Don Meredith pass 54 yards for the winning touchdown. The Browns won their next four games and eventually, of course, the league championship. An outspoken sort who was active in the NFL Players Association, Parrish reportedly advocated replacing Paul Brown with Blanton Collier in 1963. He later penned a controversial best-seller, They Call It a Game: Shoulders the NFL Stands On, that took dead aim at the league's establishment.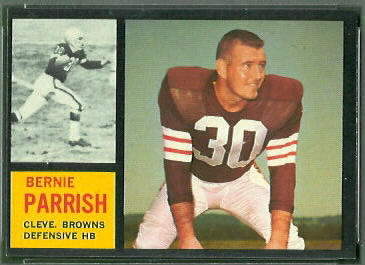 9. Tom Colella (1946-48) — A member of the Cleveland Rams' 1945 NFL champions, Colella stayed in town when the Rams moved west. A versatile veteran who could also run, pass, and punt, he intercepted 10 passes in 1946 and six more the following year, both league highs.
10. Jim Shofner (1958-63) — The Browns' first-round pick in 1958, this tall Texan, a college quarterback, had 20 interceptions, including eight in 1960, and six fumble recoveries in his six-year career. He was Brian Sipe's QB coach during his MVP year and the interim Browns coach for the end of the lamentable 1990 season.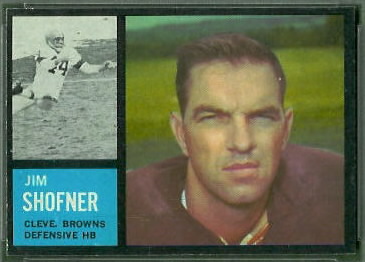 11. Daylon McCutcheon (1999-present) — Given Butch Davis' inclination to clean house, it's a testament to McCutcheon's ability that he actually earned a five-year contract extension this summer. The sole survivor from the Browns' 1999 draft, Cutch, the son Lawrence, the fine Ram runner of the '70s, has been a solid starter for all five of his seasons. Though just 190 pounds (maybe), his tackling technique is textbook. Yes, he got burned a few times by Derrick Mason in a recent preseason game, but I'm not claiming he's a shut-down corner. He deserves credit for serving as a stabilizing force on a franchise in flux, and for helping keep most of the league's top receivers in check during an otherwise difficult 2003 season. The Browns pass defense has ranked in the top half of the league each year since '99. He also intercepted two passes in the playoff game at Pittsburgh, scored on a 75-yard INT return against the Steelers last year, and forced more than a handful of fumbles over the years.
12. Ron Bolton (1976-82) — Amassed 17 interceptions in Cleveland after some good years in New England. A wiry type, at 6'2″ and 170 pounds, Bolton nonetheless was a feisty competitor on the field. Led the 1980 Kardiac Kids team with 6 picks, then ran one back in the playoffs, the Browns' only TD in that notorious "Red Right 88" game.
Sorry, not quite:
Don Shula (1951-52)
Walter Beach (1963-66)
Ben Davis (1967-68; 1970-73)
Oliver Davis (1977-80)
Lawrence Johnson (1979-84)
Corey Fuller (1999-2002)
Anthony Henry (2001-present).
This entry was posted in