Eleventh installment in a series that ranks the best Browns players at each position.
It's the marquee skill position in football, even predating the emergence of the quarterback as we know it. And the Browns are known for their tradition of excellence at running back, from big bruising fullbacks to nifty little scatbacks. Over the years, the team has used its first draft pick on an RB about a quarter of the time.
Statistics don't tell all, but I ran across a handy new site, Pro Football Encyclopedia, from which I'm including a few key measurables for each back on this list: rushing yards; yards per carry; receiving yards; yards per reception; and total touchdowns. They don't include the playoffs, but they do include AAFC games (which the official records don't). And of course, the only stats that count are those earned as a Brown.
Running backs these days are expected to have good hands for catching screen passes or safety-valve dump-offs, and they'd best be able to block well enough to save their quarterback's hide. But the benchmark for success is the 1,000-yard season. And it's been a long, long 19 years since any Brown has done that — a dryer drought than any other team. Either Lee Suggs or William Green could top that mark this year. Maybe both could, ala Mack and Byner in '85. But I won't fret if this streak gets extended as a result of these two backs splitting reps fairly evenly. In fact, I'm glad that egos don't seem to have gotten in the way of the Browns' drive to establish a strong and deep running game. Aside from James Jackson, that is.
1. Jim Brown (1957-65) — Syracuse; 6'2″ 228; 12,312 rush yds.; 5.2 ave.; 2,499 rec. yds.; 9.5 ave.; 126 TDs
As if topping a list on this blog weren't honor enough, just this year he headed three ESPN lists: best all-around athlete of all time, best rookie RB in NFL history and greatest all-time NFL player. That says plenty. Yes, I wish he had played longer, as his legend was such that, at age 47, a comeback flirtation made the cover of Sports Illustrated. Yes, I wish his off-the-field reputation was a bit purer, though I definitely honor his positive contributions to society and to the Browns as well. Cleveland fans in the second half of their lifetimes can surely find solace that they were alive to appreciate Brown's unsurpassed greatness. Despite retiring after just nine seasons (all Pro Bowl) of 12 and 14 games, several of his NFL records endure, including most seasons leading the league in rushing (8, twice as many as anyone else) and rushing TDs (5), and highest career rushing average for a running back. He was smart enough to find the right avenue of attack, strong enough to punish defenders, swift enough to break away from the pack, and durable enough to have never missed a game.
2. Marion Motley (1946-53) — Nevada; 6'1″ 232; 4720 rush yds.; 5.7 ave.; 1107 rec. yds.; 13.0 ave.; 39 TDs
Is it possible for a Hall of Fame player and member of the NFL's 75th Anniversary All-Time Team to be underrated? Not here, at least. Motley was, quite simply, an amazing player. He had a much higher career rushing average than Brown and was a far superior blocker. Whereas Brown called it quits at age 30, Motley's career was just starting at 26. Brown is rightfully proud of his record on behalf of racial equality, but it was Motley, along with three others, who broke pro football's color barrier, one year before Jackie Robinson did it in baseball, and became the first black player enshrined in Canton. Along with Otto Graham, he may have been the most vital member of those early championship teams. He'll also make my upcoming list of great Browns linebackers. A powerful fullback who would be considered a big back even today, Motley was at least on a par with the team's offensive linemen in weight, but combine that with a sprinter's speed, and it's easy to see how intimidating he must have been to potential tacklers.
3. Leroy Kelly (1964-73) — Morgan State; 6' 199; 7274 rush yds.; 4.2 ave.; 2281 rec. yds.; 12.0 ave.; 90 TDs
If there was one beneficiary of Jim Brown's sudden retirement, it was this former 8th-round draft pick, who spent most of his first two seasons on special teams returning and covering kicks. He immediately produced three straight phenomenal seasons, leading the league in rushing TDs each year, in rushing yards twice, and in yards per carry twice. He was a different breed than the powerful Brown and Motley, a fine all-purpose back with great acceleration, the ability to avoid direct hits, and balance, excelling on muddy fields. By the time he retired, he ranked fourth on the NFL's all-time rushing list. The six-time Pro Bowler was inducted into the Hall of Fame in 1994.
4. Greg Pruitt (1973-81) — Oklahoma; 5'10″ 190; 5496 rush yds.; 4.7 ave.; 3022 rec. yds.; 9.4 ave.; 43 TDs
This exciting scatback helped make Browns football fun to watch during some otherwise mediocre years. The 2nd-round pick led the team in rushing five straight seasons, including 1,000-yard totals in '75, '76, and '77. Speedy and elusive, he was also fine receiver and kick returner. He gained 304 all-purpose yards (second in franchise history) in a 1975 game against the Bengals. He was also quite a weapon with the option pass, throwing for six touchdowns. He made the Pro Bowl four times. A knee injury, the emergence of fullback Mike Pruitt (no relation), and the drafting of Charles White combined to reduce his role in later years (he had more receptions than carries in the Kardiac Kids season of 1980 and in 1981). Though he ended his career a Raider, he lives in the Cleveland area and was among the first players inducted into the team's Legends club.
5. Mike Pruitt (1976-84) — Purdue; 6' 225; 6540 rush yds.; 4.1 ave.; 1761 rec. yds.; 6.9 ave.; 52 TDs
The Browns laid several seeds for their prolific Kardiac Kids-era offense in the 1976 draft, choosing Pruitt first, WR Dave Logan in the third round, and OL Henry Sheppard in the fifth. At first, Pruitt was underwhelming, with five fumbles and just one touchdown in his first two seasons. But upon Sam Rutigliano's arrival, he began proving himself as a rugged straight-ahead power runner, a workhorse who kept defenses honest up the middle while Brian Sipe scanned the field for the likes of Rucker, Logan, Newsome, and Greg Pruitt. And his hands improved too: he caught more passes than any other Brown during Sipe's MVP season. His 1,294-yard season in 1979 is the most by any Brown not named Brown. He remains the franchise's third-leading rusher of all time.
6. Bobby Mitchell (1958-61) — Illinois; 6' 192; 2297 rush yds.; 5.4 ave.; 1462 rec. yds.; 11.4 ave.; 38 TDs
Before Green and Suggs, before Mack and Byner, before the Pruitts, the Browns actually had two future Hall of Famers in the same backfield. Mitchell, a college track star, was an absolute steal in the 7th-round. While Jim Brown's power game wore defenses out, Mitchell faked them out. He had at least 500 rushing yards each of his four seasons here, with eight 100-yard games, including 232 at Washington in 1958. He had more receptions than any other Brown during his time in Cleveland. And he was an absolutely sensational kick returner (six TDs in just 116 attempts). But the Pro Bowler and Rookie of the Year honoree (Sporting News) was traded to the Redskins, thus integrating the last team to field an African American. He moved from halfback to flanker and led the league in receiving in the first of many great seasons in Washington. The Browns surrendered Mitchell plus the rights to first-round pick (#11 overall) Leroy Jackson in order to get the rights to the first overall pick, Ernie Davis. Davis, of course, was Jim Brown's protege at Syracuse and the first black Heisman Trophy winner. Soon was diagnosed with leukemia, Davis died at age 23 without ever playing a down in the NFL.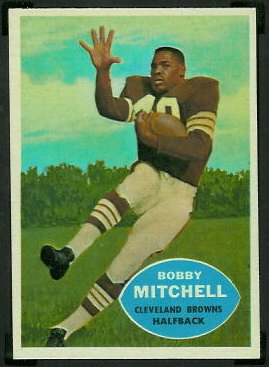 7. Kevin Mack (1985-93) — Clemson; 6' 224; 5123 rush yds.; 4.0 ave.; 1602 rec. yds.; 8.1 ave.; 54 TDs
If the new Browns had a player like Mack, they wouldn't have been running reverses from the one-yard line. This two-time Pro Bowler was a hard-charging fullback with a nose for the goal line. He ranks third among all Browns backs in total TDs. Acquired in the same supplemental draft of USFL players that also netted linebacker Mike Johnson and kick returner Gerald "Ice Cube" McNeil, Mack made an immediate splash in '85, running for 1,104 yards at five yards per carry. The Browns won the division for three straight years, with Mack as the leading rusher each season. In November of '86, the Browns won two straight overtime games against division foes, and Mack ran for over 100 yards each time. But his most important contribution may have been his 1989 comeback from injury and a cocaine conviction. In three straight games, Mack was absolutely crucial: an overtime win against Minnesota, a successful comeback at Houston, and the 34-30 playoff victory against the Bills. Mack proceeded to lead the team in rushing the next three seasons.
8. Ernie Green (1962-68) — Louisville; 6'2″ 205; 3204 rush yds.; 4.8 ave.; 2036 rec. yds.; 10.4 ave.; 35 TDs
When Paul Brown traded away Bobby Mitchell to get the bigger Ernie Davis, he hoped to establish a powerful one-two punch ala the Packers' Jim Taylor and Paul Hornung. Ironically, when Davis got sick, Brown turned to Green Bay and traded for a different Ernie, a 14th-round draft pick. Brown lasted just one more year, but Green thrived as the unselfish, versatile backfield partner of Brown and Kelly. His rushing and receiving stats are impressive, but his excellent blocking was no less important. The Browns had only winning records during Green's seven-year career, which included two Pro Bowl appearances. The ultimate team player, Green now presides over a very successful automotive supplier, Dayton-based EGI.
9. Earnest Byner (1984-88; 1994-95) — East Carolina; 5'10″ 215; 3364 rush yds.; 3.9 ave.; 2630 rec. yds.; 9.5 ave.; 38 TDs
This 10th-round draft pick established himself right away, averaging 5.9 yards per carry as a rookie, while neither Boyce Green, Mike Pruitt, nor Charles White exceeded 3.3. Only Byner remained with the Browns the next year, when they began their playoff run. He and Mack each had 1,000-yard seasons in '85, as rookie QB Bernie Kosar was kept on a short leash. Hurt much of 1986, Byner returned with a fine 1987 season, scoring 10 times and leading the team with 52 receptions. On January 17, 1988, he was inches from greatness. After two touchdowns and a team playoff record 187 yards from scrimmage, Byner failed to culminate a great comeback and earn the Browns their first Super Bowl berth when he fumbled just short of the goal line in the game's final moments. A year later, he was traded to the Redskins for the forgettable Mike Oliphant. Byner amassed two more 1,000-yard seasons and got his Super Bowl ring in Washington. He then returned to the Browns for two more years before the treacherous move to Baltimore. Though a productive and versatile back, Byner left a bittersweet legacy in Browns Town.
10. Eric Metcalf (1989-94) — Texas; 5'10″ 187; 2229 rush yds.; 3.8 ave.; 2732 rec. yds.; 9.2 ave.; 33 TDs
The Browns traded up with Denver to draft this son of another NFL great with the 13th overall pick. The slight speedster stunned defenders with some electrifying moves, but for the most part he was misused by the coaching staff. The phrase "Metcalf up the middle" springs to mind. Nonetheless, he ranks second among all Browns backs in career receiving yards, and he returned seven kicks for TDs as a Brown, including two in the memorable 28-23 win over Pittsburgh in 1993. After their 1994 playoff season, the Browns traded Metcalf to Atlanta to move up in the first round, then traded that pick to the 49ers to move down. The trade was for the birds: the Ravens got the extra first-round pick they used on Ray Lewis, and the Falcons switched Metcalf to WR, where he caught 104 passes for 1189 yards in '95. He then bounced around the league, playing for five other teams.
11. Leroy Hoard (1990-95) — Michigan; 5'11″ 223; 2203 rush yds.; 4.0 ave.; 1849 rec. yds.; 10.4 ave.; 24 TDs
For the second straight year, the Browns took a back in the first round. This time, they got a rugged but rough-edged rambler, one who gave great second effort but was also prone to concentration lapses (27 fumbles). Surprisingly for a big back, he scored more often as a receiver, including nine of his 11 TDs in 1991. It wasn't enough to stop the Browns from drafting another big back, Tommy Vardell, with their first pick in '92. Hoard, despite inconsistency, continued to develop, and he led the team in rushing in both '94 and '95.
12. Edgar "Special Delivery" Jones (1946-49) — Pittsburgh; 5'10″ 193; 1509 rush yds.; 5.2 ave.; 635 rec. yds.; 19.8 ave.; 29 TDs
An excellent overall athlete, Jones was overshadowed by the great Motley, but he was no minor contributor to the Browns' dominance of the All-America Football Conference. Ten of his 29 touchdowns came in the team's perfect 1948 season, plus two more in the championship game that year. He also led the league in yards per carry with 6.4 in 1947.
13. Cleo Miller (1975-82) — Arkansas-Pine Bluff; 5'11″ 207; 2286 rush yds.; 4.2 ave.; 1026 rec. yds.; 8.1 ave.; 17 TDs
Not as spectacular as Greg Pruitt nor as powerful as Mike, Miller nonetheless enjoyed a fairly lengthy career with the Browns, starting for two of the years that Greg Pruitt gained 1,000 yards, then filling in effectively when needed. Though primarily a blocking back, his per-carry average ranks fifth in the Browns record book among runners with at least 500 carries.
14. Calvin Hill (1978-81) — Yale; 6'3″ 228; 516 rush yds.; 3.7 ave.; 1248 rec. yds.; 11.7 ave.; 18 TDs
The father of hoops great Grant Hill was himself a fantastic pro athlete. His career included some superb years with the Cowboys and ended with four seasons in Cleveland, where he had an uncanny knack as a third-down pass receiving back. A big target with a veteran's savvy, he helped keep many a drive alive for Brian Sipe and the Kardiac Kids.
15. Bo Scott (1969-74) — OSU; 6'3″ 213; 2124 rush yds.; 3.8 ave.; 826 rec. yds.; 7.4 ave.; 24 TDs
The Browns drafted him in the third round of the 1965 draft, despite a backfield already stocked with Brown, Green and Kelly. So Scott played in Canada for four years, then signed with Cleveland and largely blocked for Kelly during several playoff seasons. His best year was 1970, when he scored 11 TDs, led the team with 40 catches, and averaged 4.1 yards per carry on a team that otherwise averaged just 3.1.
16. Ken Carpenter (1950-53) — Oregon State; 6' 195; 1186 rush yds.; 5.0 ave.; 473 rec. yds.; 11.3 ave.; 17 TDs
The Browns' first ever NFL draft pick, Carpenter was overshadowed by the likes of Motley, Dub Jones, and Dante Lavelli, but he still put up decent numbers for those prolific Browns offenses. He earned Pro Bowl honors for the 1951 season, in which he gained 954 all-purpose yards. He served in the Korean Conflict, then played in Canada and even spent a season with the AFL's Denver Broncos in 1960.
Sorry, not quite:
Harry Jagade (1951-53) — Indiana; 747; 5.0; 396; 13.7; 7
Maurice "Mo" Bassett (1954-56) — Langston; 891; 4.0; 317; 9.6; 11
Fred "Curley" Morrison (1954-56) — OSU; 1395; 4.8; 295; 10.9; 7
Ed "Big Mo" Modzelewski (1955-59) — Maryland; 1097; 3.5; 168; 6.2; 11
Ken Brown (1970-75) — no college; 1193; 3.4; 468; 8.1; 9
Boyce Green (1983-85) — Carson-Newman; 1170; 3.8; 291; 7.9; 5
Jamel White (2000-03) — South Dakota; 1324; 3.8; 1273; 7.7; 11
William Green (2002-present) — Boston College; 1446; 3.8; 163; 6.3; 7.
This entry was posted in