Football seasons come and go, but good books endure. Below is the most comprehensive bibliography anywhere focused on the Cleveland Browns — journalism, memoir, history, biography, photography, reference, and more — even true crime and fiction. (Media guides, yearbooks, and kids' books aren't included). These 92 titles are sorted by year of publication.
I've added my own brief commentary in places, and click the Amazon links to learn more. From there you can add to your own library or to that of a fellow Browns fan (and help this site in the meantime). Whether it's a fresh title or one long out-of-print and overlooked, a Browns book is sure to be a more enduring gift than, say, a Trent Richardson jersey.
I try to keep this page updated, so please send along your tips on upcoming titles, recommendations, feedback, and corrections.
Baker Mayfield by Andrew Gribble, 2019
Blanton's Browns: The Great 1965–69 Cleveland Browns by Roger Gordon, 2019. Recommended.
The Browns Blues: Two Decades of Utter Frustration: Why Everything Kept Going Wrong for the Cleveland Browns by Terry Pluto, 2018
Redemption in '64: The Champion Cleveland Browns by John M. Harris, 2018
Paul Brown's Ghost: How the Cleveland Browns and Cincinnati Bengals Are Haunted by the Man Who Created Them by Jonathan Knight, 2018
Jim Brown: Last Man Standing by Dave Zirin, 2018
Bernie Kosar: Learning to Scramble by Bernie Kosar with Craig Stout, 2017
So You Think You're a Cleveland Browns Fan?: Stars, Stats, Records, and Memories for True Diehards by Roger Gordon, 2017
Game of My Life: Cleveland Browns: Memorable Stories of Browns Football by Matt Loede, 2016
Bernie, Bill, and the Browns by Vince McKee, 2016
The Bone Lady: Life Lessons Learned as One of Football's Ultimate Fans by Debra Darnell, 2015
Just Too Good: The Undefeated 1948 Cleveland Browns by Gary Webster, 2015. Recommended. Extremely well-researched account of the on- and off-field makings of the Browns' oft-overlooked but truly perfect season. Webster followed up with a 2018 history of the AAFC, the upstart league that launched the Browns.
Brown for the Count: A Compendium of Cleveland Browns Lists by Dave Algase, 2015
Everybody Fumbles by Earnest Byner, 2014
The Browns Bible: The Complete Game-by-Game History of the Cleveland Browns by Jonathan Knight, 2013
Day of the Dawg: A Football Memoir by Hanford Dixon with Randy Nyerges, 2012
If You Wore the Uniform … You're a Brown by Barry Taylor and Shannon Duffy, 2012
Tales From the Browns Sideline by Tony Grossi, 2012 (new edition of 2004 title)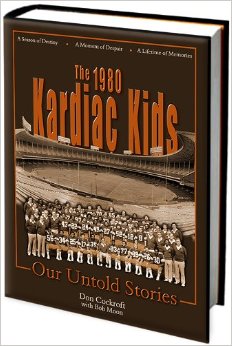 The 1980 Kardiac Kids – Our Untold Stories by Don Cockroft with Bob Moon, 2011. Recommended. Visit the tome's website for more about this extensive memory project.
Things I've Learned from Watching the Browns by Terry Pluto, 2010. Recommended.
Classic Browns: The 50 Greatest Games in Cleveland Browns History by Jonathan Knight, 2008. Recommended: Each chapter is a tidy narrative package, colored with quotes culled from players, coaches and scribes. Knight's prose shows an appreciation for the impact Browns football has on the fans, yet it is mature enough to avoid mawkishness, hyperbole or geeky displays of minutia.
Paul Brown: The Man Who Invented Modern Football by George Cantor, 2008. Bonus points for calling Art Modell a "jock sniffer."
Paul Brown: The Rise and Fall and Rise Again of Football's Most Innovative Coach by Andrew O'Toole, 2008. Recommended.
The Browns Fan's Tailgating Guide by Peter Chakerian, 2008
Cleveland Browns Trivia Teasers by Richard Pennington, 2008. Not recommended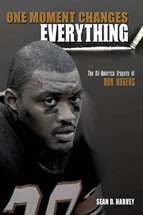 One Moment Changes Everything: The All-America Tragedy of Don Rogers by Sean D. Harvey, 2007. Recommended: A compelling microcosm of some of the best and worst aspects of American life emerges in this careful and caring chronicle of the Rogers family, whose provider and protector, the star Browns safety, died on the eve of his wedding of a cocaine overdose.
Browns Scrapbook: A Fond Look Back at Five Decades of Football, from a Legendary Cleveland Sportswriter by Chuck Heaton, 2007
Playing For Pizza: A Novel by John Grisham, 2007. The protagonist is a Browns backup quarterback who utterly implodes in the playoffs, necessitating his escape to a league in Italy, where most of the action occurs. Plays on the cliché of the Browns as hapless bridesmaids with insanely vengeful fans.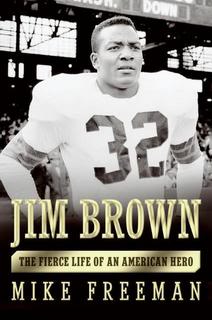 Jim Brown: The Fierce Life of an American Hero by Mike Freeman, 2006
Heart of a Mule: The Dick Schafrath Stories by Dick Schafrath, 2006
The Best Show in Football: The 1946-1955 Cleveland Browns–Pro Football's Greatest Dynasty by Andy Piascik, 2006. Highly recommended: A well-written and astute analysis of a revolutionary time in Cleveland sports, pro football, and American society. Clearly, colorfully, and comprehensively, Piascik makes a compelling case that the ten-year powerhouse Paul Brown built in Cleveland was superior to any other, earlier or since.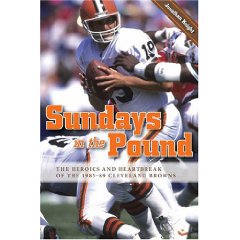 Sundays in the Pound: The Heroics and Heartbreak of the 1985-89 Cleveland Browns by Jonathan Knight, 2006. Highly recommended: Knight is among the more prolific Browns authors, and this detailed retelling of a fondly-remembered era is an interesting narrative through which to revisit names and games that may have blurred with time. Knight's books invariably reflect quality research and rely on primary sources.
Browns Essential: Everything You Need to Know to Be a Real Fan! by Mary Schmitt Boyer, 2006
Browns Glory: For the Love of Ozzie, the Toe, and Otto by Alan Ross (ed.), 2005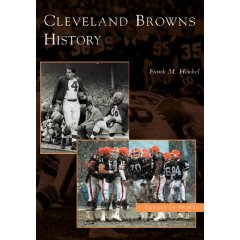 Cleveland Browns History by Frank M. Henkel, 2005. Highly recommended: Though less than one-half inch thick, it excels via numerous rare black-and-white photos with descriptive captions. There's Marion Motley in a Steelers uniform helping tackle Browns QB George Ratterman, "Turkey" Joe Jones going airborne to intercept Kenny Anderson, Bernie Kosar flicking a pass under Miami's Bryan Cox for a touchdown to Mark Bavaro, and Tim Couch's college notebook page in which he weighs the pros and cons of turning pro early.
For Browns Fans Only! by Rich Wolfe, 2005
The Education of a Coach by David Halberstam, 2005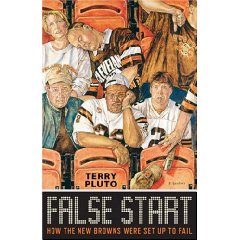 False Start: How The New Browns Were Set Up To Fail by Terry Pluto, 2004. Recommended: This quick read is well worth the time of any fan who still needs some intellectual and emotional support for having endured the reborn team's largely wretched performance.
Tales From the Browns Sideline by Tony Grossi, 2004. Slim volume of reflections on 93 Browns players and personalities, weighted more toward the 1980s and later. (Todd Philcox and Spergon Wynn are profiled; Hall of Famers Mike McCormack and Bobby Mitchell are not.) Each vignette is just a page or two, ideal for those with limited attention spans or who want quick refreshers on the likes of Henry Bradley, Al Gross, or Jim Pyne.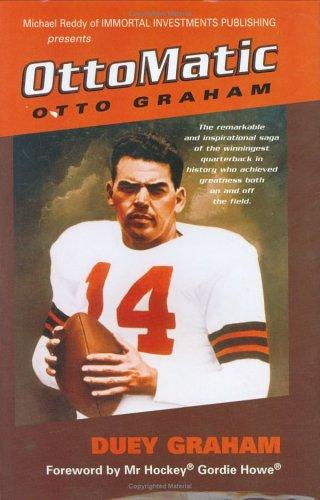 OttoMatic by Duey Graham, 2004. An uneven but interesting work partially redeemed by the format of frequently handing off the first-person voice among Otto, his son Duey, his wife Bev, and various others.
Best of Hal Lebovitz: Great Sportswriting from Six Decades in Cleveland by Hal Lebovitz, 2004
Heroes, Scamps, and Good Guys: 101 Colorful Characters from Cleveland Sports History by Bob Dolgan, 2003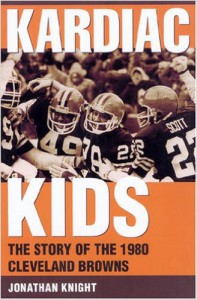 Kardiac Kids: The Story of the 1980 Cleveland Browns by Jonathan Knight, 2003. Recommended.
Browns Town 1964: The Cleveland Browns and the 1964 Championship by Terry Pluto, 2003. Recommended: Paperback edition of one of the indispensable books in the Browns' canon, 1997's When All the World Was Browns Town.
Cleveland Browns A-Z by Roger Gordon, 2002, reissued in 2015
From Ghetto to God: The Incredible Journey of NFL Star, Reggie Rucker by Reggie Rucker and Nadine McIlwain, 2002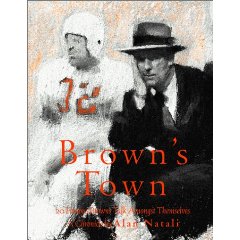 Brown's Town: 20 Famous Browns Talk Amongst Themselves by Alan Natali, 2001. Highly recommended: The most absorbing book featuring the words of ex-Browns, this 572-page chronicle serves as a biography of sorts of the legendary coach, but it far transcends that. Easily the best prose stylist among all Browns book authors, Natali lets the players speak for themselves naturally through smooth editing, set up with excellent biographical essays.
Rugged and Enduring: The Eagles, the Browns, and 5 Years of Football by David Cohen, 2001
First and Last Seasons: A Father, A Son, and Sunday Afternoon Football by Dan McGraw, 2000. Recommended: Memoir of a magazine editor who take a leave of absence to cover the reborn Browns' first season back in his hometown of Cleveland, where his father is soon diagnosed with terminal cancer. Both witty and gritty, it speaks to the bond that football provides in the emotional life of men.
Back Home: The Cleveland Browns by Tim Graham, editor, 1999
On Being Brown: What It Means to Be a Cleveland Browns Fan by Scott Huler, 1999. Highly recommended: A charming collection of short essays and interviews with fans and former players (Sipe, Graham, Warfield, Sherk, Kosar, even Mike Phipps among them), connecting one with the other, and reader and author, by dipping into pooled emotional essence.
Cleveland Browns Facts and Trivia by Roger Gordon, 1999
The Cleveland Browns: The Official Illustrated History by Ron Smith, 1999. Recommended: Delivers what it promises, with dozens of full-page color photos among its glossy pages.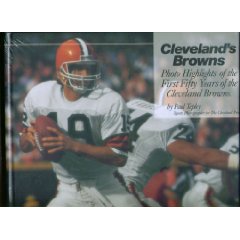 Cleveland's Browns (Photo Highlights of the First Fifty Years of the Cleveland Browns) by Paul Tepley, 1999. Highly recommended: This fine coffee table book measures 26 inches across when open. The longtime Cleveland Press photographer's collection of his and others' work is vivid and nicely arranged. If not for Ernie Green's outstretched hands at the page's edge, the reader could half expect to catch Frank Ryan's toss and head up the dirt field himself.
The Cleveland Browns: The Great Tradition by Bob Moon, 1999. Highly recommended: An excellent overall combination of text and images, this handsome and highly readable history qualifies as an heirloom book.
Total Browns: The Official Encyclopedia of the Cleveland Browns by Bob Carroll, Michael Gershman, David Neft, John Thorn, 1999
The Best of the Cleveland Browns Memories by Russell Schneider, 1999. Recommended: The former Plain Dealer sportswriter turns in a workmanlike effort in a satisfyingly substantial set of stories and profiles.
The Browns: Cleveland's Team by Richard Shmelter, 1999
Legends by the Lake: The Cleveland Browns at Municipal Stadium by John Keim, 1999. Highly recommended: This Lakewood native's sizable history is well worth the space it will take up on your bookshelf. Its greatest strength lies in the frequent quotations generated from several dozen interviews.
Tim Couch: A Passion for the Game by John McGill and Dave Baker, 1999
When All the World Was Browns Town by Terry Pluto, 1997. Highly recommended: This story of the 1964 championship team and season hit the market when Cleveland most needed to be reminded of its football glory. The veteran sports columnist and author, now with the Plain Dealer, is at his casual but authoritative best.
Glory for Sale: Inside the Browns' Move to Baltimore & the New NFL by Jon Morgan, 1997. Recommended.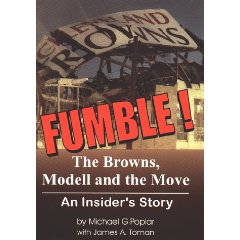 Fumble! The Browns, Modell and the Move by Michael G. Poplar with James A. Toman, 1997. Recommended.
Cleveland Stadium: The Last Chapter by James A. Toman and Gregory G. Deegan, 1997
City of Champions: The Story of the 1948 Cleveland Barons, Browns and Indians by Kevin O'Connell, 1997
Browns Memories: The 338 Most Memorable Heroes, Heartaches & Highlights from 50 Seasons of Cleveland Browns Football by Tim Long, 1996. A pocket-sized stocking stuffer featuring brief recollections and odd facts. Did you know that tight end Milt Morin used to kick off on occasion, or that QB Frank Ryan's wife had a column in the Plain Dealer? Now you do.
The Toe: The Lou Groza Story by Lou Groza with Mark Hodermarsky, 1996
Deadly Goals: The True Story of an All-American Football Hero Who Stalked and Murdered by Wilt Browning, 1996
The Cleveland Browns: A 50-Year Tradition by Steve Byrne, Jim Campbell, Mark Craig, Bob Moon, 1995. Earlier edition and substantially the equivalent of the highly recommended The Cleveland Browns: The Great Tradition (1999).
Cleveland Stadium: 60 Years of Memories by James A. Toman, 1994
The Cleveland Sports Legacy Since 1945 by Mark Hodermarsky, 1991
Behind the Lines by Don Strock and Harvey Frommer, 1991
Out of Bounds by Jim Brown and Steve Delsohn, 1989
Pressure by Sam Rutigliano, 1988
I Went Both Ways by Don Paul, 1988
Cleveland Browns Trivia by John F. Grabowski, 1987. Not recommended.
Football's Gentle Giant: The Blanton Collier Story by Kay Collier Slone, 1985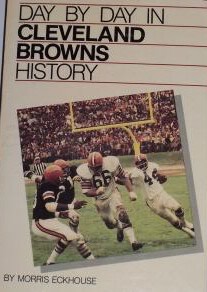 Day By Day in Cleveland Browns History by Morris Eckhouse, 1984. Recommended: Long out-of-print, but uniquely handy. For one thing, it contains detailed descriptions of every Browns trade made from 1947 through 1984.
Ernie Davis: The Elmira Express, the Story of a Heisman Trophy Winner by Robert C. Gallagher, 1983. It's a subject good enough to green-light a major motion picture.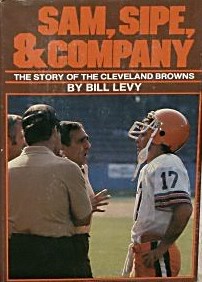 Sam, Sipe, & Company : The Story of the Cleveland Browns by William V Levy, 1981.Recommended: Updates the classic 1965 team history Return to Glory.
PB: The Paul Brown Story by Paul Brown and Jack Clary, 1979. Recommended. As fascinating as it is self-serving, this autobiography is a key puzzle piece in understanding the man who professionalized what became America's foremost spectator sport.
The Cleveland Browns: Power and Glory by Chuck Heaton, 1974
Cleveland Browns: Great Teams, Great Years by Jack Clary, 1973
They Call It a Game: Shoulders the NFL Stands On by Bernie Parrish, 1971 (reissued in 2000). The '60s-era cornerback takes a broadside swipe at the league's establishment.
My Greatest Challenge by Bill Glass, 1968
20 Years with the Cleveland Browns by Varo Cerbaro, 1966
Get in the Game! by Bill Glass, 1965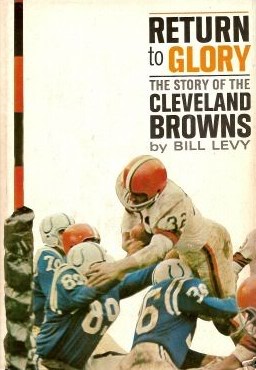 Return to Glory: The Story of the Cleveland Browns by Bill Levy, 1965. Recommended: The first book-length history of the Browns still holds up today.
Off My Chest by Jimmy Brown with Myron Cope, 1964. Recommended: The legendary runner's first memoir provides insight into a complex personality, whose story was crafted with the help of the man who became the distinctive longtime radio voice of the Steelers.
Confessions of a Gypsy Quarterback by George Ratterman and Robert Deindorfer, 1962
Football Scouting by Robert C. "Sarge" MacKenzie, 1955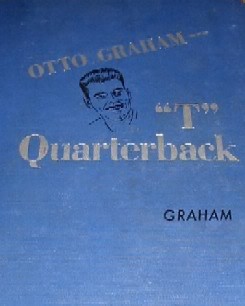 T Quarterback by Otto Graham, 1953. Though ghost-written in actuality, the first known Browns-related book details the duties of the position Graham revolutionized during the Browns' dynastic era. The action photo section is interesting, but this one's really for hard-core collectors or coaching types.