Ninth in a series that ranks the best Browns players at each position.
1. Jerry Sherk (1970-81) — The saving grace of the Browns' 1970 draft was this second-round pick out of Oklahoma State, where he also excelled in the Cowboys' renowned wrestling program. Sherk earned four consecutive Pro Bowl appearances, from 1973 through 1976 — perhaps his best season — when he was named the NFL's Defensive Player of the Year. His wrestler's sense of leverage, combined with great quickness and persistence, made him an excellent pass rusher and tackler in pursuit. His 69 career sacks are second only to Clay Matthews on the Browns' career list. Had four sacks in a 1976 win over the Eagles, a Browns' single-game record tied only last season by Andra Davis. Unfortunately, the next time those two teams met, in 1979, Sherk scraped his arm on the Veterans Stadium astroturf, and a resulting staph infection endangered life and limb and shortened his career. Despite playing on some dismal teams, Sherk is rightfully proud that he is a lifelong Cleveland Brown.
2. Walter Johnson (1965-76) — Powerful, durable, explosive, and tall (6'5″), this second-round pick was a fixture on the Browns' D-Line during the Blanton Collier and Nick Skorich eras. Made three straight Pro Bowls in the late '60s, then teamed with Sherk in the '70s to form the best defensive tackle tandem in the league. Tough enough to play 168 straight games (fourth in team history) and persist through sub-zero weather and frostbitten fingers in the 1969 title game loss at Minnesota. His 58 career sacks rank third among all Browns. Only Brown to score more than one safety. Dabbled in pro wrestling after his playing career. Died of a heart attack in 1999 at age 56, just two days after the passing of another Browns great, Marion Motley.
3. Bob Gain (1952, 1954-64) — Before Bear Bryant began his legendary coaching run at Alabama, he headed a successful program at Kentucky. One of his mainstays there was Akron-born Gain, who won the Outland Trophy in 1950. Green Bay drafted him in the first round, but instead he went to Ottawa of the CFL. The Browns traded for his rights a year later and signed him. That gave them two tackles who were also kickers, as Gain was in college (his only NFL attempts were three successful extra points as a rookie). After missing the 1953 season to serve in the Korean Conflict, Gain settled into the middle of the defensive line and became a five-time Pro Bowler who recovered 10 fumbles in his career and caused many more. Career ended with a broken leg suffered against Dallas early in the championship season of 1964. Inducted as a Browns' Legend in 2003.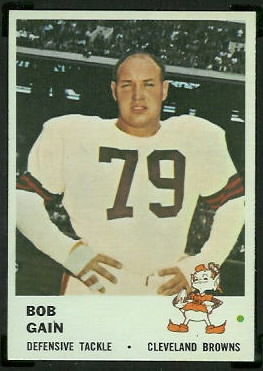 4. Michael Dean Perry (1988-94) — His big brother, The Fridge, may have been more famous, but Michael Dean was a better player by far. Very quick off the ball, Perry had many Browns fans just waiting for the day he would beat the quarterback to the snap and run past the surprised backfield straight to the end zone. As it was, the 6'1″, 290-pound Clemson product racked up 47.5 sacks as a Brown, including 11.5 in 1990. He made the Pro Bowl five out of his seven years in Cleveland. Inducted into the first class of Browns' Legends in 2001.
5. Bob Golic (1982-88) — The Browns played a 3-4 defense from 1980 to 1988, and Golic plugged the middle as the nose tackle for most of that time. The Notre Damer, a two-time All-American wrestler, brought an intense spirit to the interior of the Browns' defense. Preceded by three years in New England and succeeded by four more as a Raider, Golic's prime years came in Cleveland, his hometown. He made the Pro Bowl three straight seasons beginning in '85, coinciding with the team's playoff run.
6. Don Colo (1953-58) — The only Brown to play at Brown University (where he was a teammate of Joe Paterno), Colo came to Cleveland in a 15-player swap with the Colts. He captained a Browns defense that allowed the fewest points in the league each year between '53 and '57. Colo made three Pro Bowls in his six years here.

7. John Kissell (1950-52, 1954-56) — Paul Brown had seen enough of him as a Buffalo Bill in the AAFC bring him, along with guard Abe Gibron and halfback Rex Baumgartner, to Cleveland in time for their entry to the NFL. In return, the owner of the defunct Bills got a minority ownership share of the Browns. Kissell, a WWII veteran and Boston College grad, was a solid starter on three NFL championship teams.
8. Orpheus Roye (2000-present) — Signed as a free agent after four years as a Steeler, Roye is arguably the best defensive player the new Browns have had. Jamir Miller had a great 2001, and Daylon McCutcheon has been solid all five years, but it's Roye who has picked up the slack on the defensive line. After an ill-advised move to defensive end in 2001, the former sixth-round pick out of Florida State returned to DT and has outplayed the three first-rounders on the Browns' D-Line. For a 320-pounder he moves well and finishes every play, often chasing down runners long after other linemen would've given up. He's also broken up 22 passes since donning the brown and orange.
9. Dick Modzelewski (1964-66) — Played 11 seasons, mostly for the Giants, before coming to Cleveland and immediately making his first and only Pro Bowl. The team, of course, won the NFL championship. Also deserves some credit for the development of Walter Johnson, whom he took under his wing. "Little Mo" was an Outland Trophy winner from Maryland who went 6'2″ and 260 pounds. ("Big Mo" was his older but smaller brother, Ed, who played RB for the Browns from '56 to '59.) My dad recalls that he and former Browns safety Junior Wren owned a Cleveland Heights restaurant, Junior & Mo's, in the '60s. He later became the Browns' defensive coordinator (and head coach for the 1977 finale following the firing of Forrest Gregg).
10. Jim Kanicki (1963-69) — The third-round pick from Michigan State played in 88 regular season games for the consistently winning Browns teams of his era, including the 1964 champs. The upset shutout of the Colts for the title may have been his crowning glory. He now owns a steel company in Ashtabula.
Sorry, not quite:
Forrest "Chubby" Grigg (1948-51)
Derrell Palmer (1949-53)
Floyd Peters (1959-62)
Henry Bradley (1979-82)
Dave Puzzuoli (1983-87)
James Jones (1991-94)
Gerard Warren (2001-present).
This entry was posted in