The first and easiest quarter of the season has ended with the Browns a disappointing 1-3. But even that dismal record doesn't fully bespeak the serious problems of this organization, from the top down. Over the next few days, I'll take a look at a few of the key dynamics at work, starting today with owner Jimmy Haslam III.
The Tennessee truck stop magnate has shown two chief inclinations since buying the Browns three years ago. First, he'll do just about anything to monetize the Browns and the brand.
The city-owned stadium now bears a corporate name, adding some $100 million to team revenues.
Their 40-year association with the Cleveland Clinic ended with the switch to University Hospitals for medical services and a sweet $30 million sponsorship.
The $125 million in stadium upgrades, financed largely with loans and a $30 million commitment from a not-so-flush city, helped justify a league-high 27.5% hike in ticket prices this season when the team's performance could not.
The modernization effort has extended to a makeover of the team's iconic uniforms.
None of that is particularly surprising or even extraordinarily rapacious as the NFL rolls these days. But part of the intangible identification that ties long-suffering fans to the Browns has been eroded, the part that values the unadorned, no-nonsense, blue-collar, straight-up, enduring traditionalism of the Cleveland Browns as a civic institution rather than a cash cow for billionaires.
Haslam's second strong inclination is the one that now finds him lashed to a flailing ship. It's impetuousness. He seems to want both deep involvement in the particulars of football operations and the appearance of clean hands, so that the blame for failure flows downhill. He knows stability is essential for success, but his first order of business was to clean house, then to trust a pair of untrustworthy executives, then to let them talk him into shamefully scapegoating a rookie head coach, then to get wise and swing his axe again, and then to hand the ball to a first-year GM and another first-year HC.
The problem now is what happens when the GM or HC or both prove themselves unfit for top-flight NFL competition. Can Haslam stick with them and let them grow into their roles, no matter how brutal the mistakes, losses and criticism become? Should he? Another firing and housecleaning means more upheaval and ultimately more time until the Browns develop the habit of winning.
But a mistake is a mistake, and you ought not throw good years after bad. If Ray Farmer can't outwit the majority of his counterparts in player acquisition, and if Mike Pettine can't assemble a coaching staff and schemes and cohesive units to achieve the expected results on the field, well, should Haslam be hamstrung out of sensitivity to his own reputation for impatience?
It's a dilemma only winning will solve, and in this regard there's one other ownership factor that must be mentioned.
Though recent lower, volatile gasoline prices have helped boost Haslam's net worth to the $3 billion range, damage from the fraud scandal at Pilot Flying J is substantial and ongoing. Recall that Haslam struck the deal to buy the Browns while the rebate fraud was running apace. It requires him to pay Randy Lerner another $300 million this time next year to complete the sale.
Factor in a $92 million civil penalty, an $85 million class-action settlement, ongoing litigation from remaining victims, the lost revenue from no longer being able to perpetrate the scheme, and the fact that Haslam has yet to be cleared of personal culpability as his guilty ex-underlings cooperate with the feds prior to sentencing, and you have a situation of serious uncertainty.
Now look at the Browns' spending on player contracts compared to the salary cap. They're an estimated $23.5 million below the cap. Only two teams have more unspent cap space. (Last year, they ranked second in unspent cap space; in 2013, 6th.) Candidly, they're skimping on talent, and I can't believe it's because Farmer thinks frugality is the key to building a winning tradition. It's a direct reflection of Haslam's under-the-radar influence.
It's too bad that his company's malfeasance has distracted the owner and sullied the Browns, because this franchise needs an all-in, all-out effort to get every bit of help it can.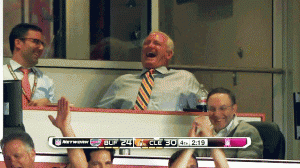 Browns president Alec Sheiner (left) shares hilarity with owner Jimmy Haslam, along with now-exiled
CEO Joe Banner, as the Browns head toward a prime-time victory in 2013.

In the next installment, an examination of GM Ray Farmer.

This entry was posted in