The strange case of Dwayne Bowe encapsulates many of the problems with the current Browns. He's the Chiefs' all-time receptions leader among wide receivers, a big, athletic target signed in March to a hefty two-year contract that included $9 million in guarantees. Yet he's been a healthy scratch for most of the season, despite the suspension of the team's only true number one receiver, Josh Gordon, and lingering injuries to Andrew Hawkins and Taylor Gabriel.
What gives? As with most problems, several factors are at play, and they each represent larger issues of dysfunction that will need to be sorted out in the coming weeks.
1. The contract was absurd in the first place. GM Ray Farmer knew Bowe well from their time together in KC, and this deal seems inspired by the player Bowe once was rather that what he offered going forward. The Chiefs had released him to save space under the salary cap. The Browns gave him a $3.5 million signing bonus, a $2.65 million guaranteed salary for 2015 and a 2016 salary of $6.15 million, of which $2.85 million is guaranteed.
This came after they'd already signed veteran FA Brian Hartline for two years and $6 million (with no guarantees for the second year). Hartline had more receiving yards over the previous three years than Bowe and is more than two years younger.
The Browns had passed on re-signing their own veteran WR, Miles Austin, who was second on the team with 47 catches in 2014. He signed a one-year deal with the Eagles for $2.5 million, caught 13 passes in a reserve role, and was recently waived.
Another point of comparison: Michael Crabtree. The ex-49er was still on the market when Bowe signed. He ended up settling for a one-year, $3 million contract with the Raiders. He recently earned a big four-year extension, having caught more passes every single game this year than Bowe has in total.
2. Bowe didn't stave off his decline with strong conditioning. As athletes age, it requires more effort, not less, to stay at the top of their games. By all accounts, Bowe didn't report to the Browns in great shape, and he didn't jump into his new situation with an all-in attitude.
Whether that had any role in his training camp hamstring injury is hard to discern, but being on the shelf surely didn't help him adjust to his new team as it implemented a new offensive system. There's some responsibility here on the player to go out and prove himself to his new coaches and teammates, no matter what kind of status he might expect by virtue of his contract and track record elsewhere.
3. The coaching staff failed to push the right buttons with Bowe. Even if Pettine and his assistants were turned off by this incoming veteran, it's their duty to develop and assimilate the players they're given into a productive team. Granted, I'm not in the building to evaluate their interpersonal skills, but it's pretty obvious that they haven't dealt with Bowe effectively.
Some personalities are more challenging than others, but it has to be considered a demerit on the coaches that they haven't found any sort of on-field role for a player of his proven ability.
4. The prolonged benching hints at a power struggle. On some level, I can't blame Pettine for asserting his prerogative to play and sit who he sees fit. After all, he lost a good offensive coordinator in large part because of meddling by the GM, which was the underlying sin of Textgate.
There's also evidence that team president Alec Sheiner has been straying from his lane into football matters, creating a kink in the direct reporting lines that owner Jimmy Haslam supposedly wanted when he eliminated Joe Banner's position. And Pettine must have absorbed how Haslam handled his previous head coach, axing him summarily before realizing the full scope of the organization dysfunction.
So part of the Bowe story seems to be Pettine taking a stand and exercising his authority. That's understandable. But it also comes off as petty, as Bowe is clearly identified as Farmer's "guy." Keeping him totally out of game planning in favor of the likes of Darius Jennings, Marlon Moore, and Terrelle Pryor smacks of office politics rather than constructive team leadership.
5. We still don't know what we have. Can Bowe still play? He thinks he can. With a record of 3-10, the Browns really ought to get this guy onto the field and provide a basis for a rational evaluation heading into the off-season. Should they eat $2.85 million and cut him before next season? That would save about $3.4 million.
But it would also lock in one of the worst returns on investment in Browns player contract history. If Bowe can leave this 2015 season with some sliver of hope, and credible encouragement to work hard in his off-season conditioning, you'd think that the carrot of that $3.4 million would help motivate him to make the 2016 opening day roster.
Whether Pettine or Farmer are still around then is very much an open question, as it should be.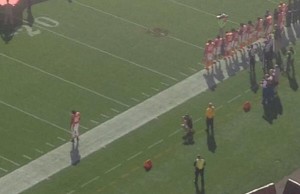 Bowe stands off to the side during the national anthem before the November 1 loss to Arizona. Photo via Twitter.

This entry was posted in