Fifth in a series that ranks the best Browns players at each position.
Safety has been a position of interest for the Browns of late, as their two incumbents, Earl Little and Robert Griffith, are both over 30, and an heir apparent, second-round pick Sean Jones, has already been lost due to injury.
In looking back through Browns history, I found this a tough position to evaluate, as there are multiple responsibilities, not always quantifiable. Cornerback converts are common too. Standouts such as Tommy James, Warren Lahr, and Erich Barnes ended their careers as safeties but are most properly considered CBs. A few defensive backs played enough at both CB and safety to merit consideration on both lists.
Longevity is difficult enough in this demanding position, but three Browns safeties have died while still active in the league. Two of them deserve mention on this list, while a third, Don Rogers, who died of a cocaine overdose after two seasons, does not.
If past is prologue, there's really no telling which of today's Browns might one day emerge on this list, which features some blue-chip draft picks, but also several productive players who were either unheralded or entirely new to the position.
1. Thom Darden (1972-4; 76-81) — The fifth defensive back taken in the first round of the 1972 draft, this All-American from Michigan made an immediate statement, sacking the quarterback three times in his first game. The Browns' pass defense was ranked among the league's top 10 each of his first three years, but when he missed 1975 due to injury, it fell to 23rd. Led the NFL with 10 picks in his All Pro year of 1978, though his 1974 season may have been even better. In 1979, he broke Roger Staubach's streak of 150 passes without an INT by running one back for a touchdown on Monday Night Football. A lifelong Brown, Darden holds franchise career records for interceptions (45), interception return yardage (820), and seasons leading the team in interceptions (6).

2. Ken Konz (1953-59) — Made the Pro Bowl in the back-to-back championship seasons of '54 and '55. Of his 30 career interceptions, he found paydirt with four, most of any Browns safety. Secondary to his secondary work, Konz was one of the very few players to both punt and return punts. A scrappy defender listed at just 184 pounds, he intercepted a team record four passes in the playoffs.

3. Ross Fichtner (1960-67) — A Browns fan since childhood, he was part of the defense that blanked the heavily-favored Colts for the 1964 NFL title. Averaged an impressive 21.5 yards per return of his 27 career interceptions, the most of any Browns safety. On Oct. 23, 1966, in front of a then-record Stadium crowd of 84,721, Fichtner picked off three passes in a 30-21 win over the undefeated Dallas Cowboys.

4. Felix Wright (1985-90) — Undrafted out of Drake, played in Canada for several years before catching the Browns' eye by picking off four passes in a Grey Cup game. Benefitted from a strong supporting cast, including two Pro Bowl cornerbacks, that ranked among the NFL's top 10 pass and total defenses in the playoff years of '87-'89. Led team in interceptions four times, including a league-high nine in 1989. Returned two picks for 108 yards and a TD in a Monday night win over the Rams in 1987. Tied Konz' mark with four career playoff interceptions. More ball hawk than enforcer, Wright did make a memorable, picturesque hit on Buffalo's Don Beebe in a 1990 playoff win.

5. Cliff Lewis (1946-51) — The Browns' first quarterback, he soon gave way to Otto Graham and served as his backup while amassing 30 interceptions at safety, including nine in the undefeated season of 1948. "He was a team man all the way," Graham said upon Lewis' death in 2002. And those were some pretty good teams.
6. Eric Turner (1991-95) — The first pick of the Bill Belichick era, this UCLA product was taken second overall, highest ever for a defensive back. "E-Rock" became a starter during his rookie year, establishing himself as a strong tackler with good ball skills as well. He was in on 8.6 tackles per game over his Browns career. Tied for NFL lead with nine interceptions (half of the Browns' total!) — including a 93-yard TD return — in his All-Pro 1994 season, when the Browns' stingy defense helped them make the playoffs. Tragically, Turner passed away from cancer at the age of 31 in 2000 while a member of the Raiders.

7. Ernie Kellermann (1966-71) — A great quarterback for Miami of Ohio (beating Purdue with an 88-yard TD pass as a freshman), Kellermann was drafted by the Cowboys the same year they picked Craig Morton in the first round. Upon his release, the Browns picked him up and converted him to safety, where he saw playing time right away. 17 interceptions as a Brown, including six in his 1968 Pro Bowl season.

8. Larry Benz (1963-65) — Led or tied for team lead in interceptions each of his three seasons. Picked off two Eddie LeBaron passes in his second pro game, a 41-24 win at Dallas in which Jim Brown rushed for 232 yards. The Cleveland Heights High School star was the first and, despite his brief career, the best player to wear #23 for the Browns. Will Adimchinobe Echemandu mount a challenge?

9. Clarence Scott (1971-83) — He'll rank higher on the cornerbacks list, but he deserves mention for playing his last five years at safety, where he had 14 of his 39 career INTs. The first-round pick out of Kansas State spent his entire 13-year career as a Brown, playing in 178 straight games, most of any Browns defender.

10. Mike Howell (1965-72) — This Grambling star was a value find in the 8th round, racking up 27 picks, tied for sixth in team history. Began as a cornerback and moved to safety, where he started for the playoff teams of the late '60s.

11. Bobby Franklin (1960-66) — A converted college QB, Franklin picked off 8 passes as a rookie, still a team record for safeties. Three of those came in a December 1960 shutout of Chicago in which he became the only Brown ever to return two picks for scores in the same game. Also the holder for placekicks.
12. Don Fleming (1960-62) — This Shadyside, Ohio, native stepped right into the Browns' lineup as a rookie, tallying 10 INTs in his first three seasons. Sadly, he died from electrocution while on an off-season construction job. In tribute, the Browns retired his #46.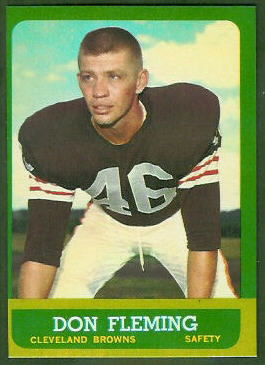 13. Al Gross (1983-87) — Led Browns with 5 interceptions each in '84 and '85. The '84 team ranked second in the league in total defense and third in pass defense. His Sept. 7, 1986, fumble recovery for a touchdown was the first-ever decision made by instant replay.

14. Stevon Moore (1992-95) — Mostly known as a solid hitter (6.3 tackles per game), he did have a three-interception game in '95 and the team's second-longest fumble return, a 73-yard TD in 1992, both against the Oilers.

Sorry, not quite: Ken Gorgal (1950, '53-4); Junior Wren (1956-59); Walt Sumner (1969-74); Clinton Burrell (1979-84); Ray Ellis (1986-87); Thane Gash (1988-90); Earl Little (1999-present).

This entry was posted in