Eighth in a series that ranks the best Browns players at each position.
1. Gene Hickerson (1958-60; 1962-73) — Is there any eligible former player more deserving of a Hall of Fame induction? This Legend from Ole Miss made the Pro Bowl six times, blocking for three running backs who have already been enshrined. He made the NFL's 1960s All-Decade Team. He ranks near the top of the Browns' longevity records despite missing one year with a broken leg. For all the sweeps he led, maybe fans can help sweep him into Canton.

2. Jim Ray Smith (1956-62) — As former Dallas personnel guru Gil Brandt recalled, "He was a 218-pound defensive end and built himself into a five-time Pro Bowl 245-pound guard." And in the inimitable vernacular of Topps sports cards, "Jim has surprising speed for a fellow of his tonnage."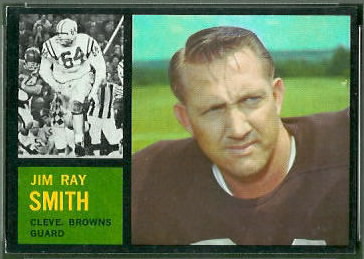 3. Abe Gibron (1950-56) — Considered one of the best guards not in the Hall of Fame: at 5'11″ and 255 pounds, "The roly-poly Gibron became one of the Browns' 'messenger guards,' linemen who alternated in taking each play called by the coach into the quarterback. Eventually, he was deemed too valuable to play part time and stayed in the lineup while the 'other' guards ran messages." The Purdue product made the Pro Bowl four straight times. He later had a long coaching career, including three terrible years as the Chicago Bears' head coach.

4. John Wooten (1959-67) — After filling in during Hickerson's injured year, the former 5th-round pick from Colorado settled into the left guard slot for nothing but winning teams, including the 1964 champs. During his two Pro Bowl years, the Browns had Pro Bowlers at both guard spots and at left tackle (Dick Schafrath). Can we modern-day Browns fans even imagine?!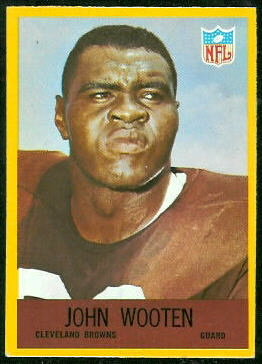 5. Joe DeLamielleure (1980-84) — In exchange for second- and third-round draft picks, the Browns received a big-time Bill: a future Hall of Fame lineman coming off his fifth straight Pro Bowl appearance. He kept that string alive with an All-Pro Kardiac Kids season. Upon Joe D.'s arrival, quarterback Brian Sipe went from 26 interceptions down to 14, from 43 times sacked down to 23. It's a correlation that's no mere coincidence.

6. Lin Houston (1946-53) — One of Paul Brown's favorites from Massillon and OSU, Houston, who doubled as a defensive lineman in those five-man fronts, was the first Brown to wear #32. He was also the big brother of Jim Houston, who will rank among the very best linebackers when I get to that position.

7. Robert E. Jackson (1975-85) — An April Fool's baby and an undrafted free agent out of Duke, the 6'5″ Jackson needed to beef up just to tip the scales at 245. With the makings of a good pulling guard, he cracked the starting lineup as a rookie. He was pretty much a fixture for a decade, helping each of the Pruitts become multiple-time 1,000-yard backs.

8. John DeMarie (1967-75) — LSU product was a solid 6th-round find, playing several positions along the offensive line. He succeeded Wooten at left guard, where he contributed to the prolific offenses of the late '60s playoff teams. He later switched sides with the aging Hickerson. He also saw significant playing time at right tackle and center.

Sorry, not quite:
Ed Ulinski (1946-49) Marshall, who later became a Browns assistant coach and the team's film director
Chuck Noll (1953-59) Dayton, also a linebacker, who I guess has a few things in common with Bill Cowher
Henry Sheppard (1976-81) SMU
Dan Fike (1985-92) Florida
Bob Dahl (1992-95) Notre Dame
And a few notes left over from my research:

Most mystifying — Despite being stocked with Hickerson and Wooten, in 1963 the Browns surrendered their 1965 first-round draft pick to San Francisco in exchange for 30-something guard Ted Connolly. Connolly played one forgettable season in Cleveland before his career came to an end. Then, in the 1964 draft, the Browns used four of their picks on guards, none of whom amounted to anything much.

DeTail — Past Browns offensive linemen have been named DeLamielleure, DeLeone, DeMarco, DeMarie, and DeVries. So maybe this Enoch DeMar is a keeper. Or maybe we're just an injury or two away from another DeMinus year. (No, fear not, I'm not really that DeFeatist on the upcoming season.)

Guard down — Here's a rapid-fire rundown of the 15 players to start at guard since the Browns' rebirth just five years ago: Pyne, Rehberg, Bundren, Zahursky, Lindsay, Verba, O'Hara, Johnson, McKinney, Bedell, Stokes, Fowler, Beasley, DeMar, Zukauskas. Welcome, Kelvin Garmon, Mr. Sweet Sixteen!

This entry was posted in