Seventh in a series that ranks the best Browns players at each position.
1. Len Ford (1950-57) — The former Michigan Wolverine and Los Angeles Don (AAFC) beefed up to focus on defense upon his arrival in Cleveland. Recovering from a wicked facial injury just in time for the famous 1950 title game, he became a dominant pass rusher, the centerpiece of the league's stingiest defense, and the reason the 4-3 defense was invented. Won all-NFL honors five times. Recovered 20 fumbles in his career, an NFL record at the time. If only they kept statistics on QB sacks back then! Intercepted two passes in the 56-10 championship game romp over the Lions in 1954. A heart attack claimed him at age 46, four years before being inducted into the Hall of Fame.
2. Bill Glass (1962-68) — The next end after Ford to wear #80 was Jim Marshall, but he was traded to the Vikings after just one year of what became a Hall of Fame career. To the rescue came Glass, the former Baylor All-American, in a trade with Detroit involving QB Milt Plum. The clean-cut Christian became a key member of the defense that held Johnny Unitas to 95 passing yards in the 1964 championship game shutout. The durable Glass earned Pro Bowl honors in four of his seven years in Cleveland, primarily for his blind-side pass rushing. Browns' single-season sack leader with 14.5 in 1965. In 1966, he had sacks in seven straight games. One friend recalled, "Quarterbacks told the story on Bill that he would come charging in on you, knock you down, then reach down to pick you up and say, 'Bless you, brother.' " Off-season seminary studies led to writing several books during his playing career and later founding his own successful ministry, now known as Champions for Life.
3. Paul Wiggin (1957-67) — Can you imagine any of today's players earning an advanced degree from Stanford during their off-seasons and actually teaching anything other than football during their playing careers? That's what Wiggin did off the field. On it, he played in 146 straight games, recovering 18 fumbles (second most in Browns history) and earning two Pro Bowl starts. After his final season, he was named Cleveland Pro Athlete of the Year. He's enjoyed a long and successful career as a coach and administrator, now with the Vikings.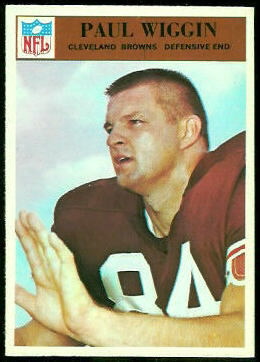 4. Carl Hairston (1984-89) — His nickname "Big Daddy" tells you exactly what he meant to the fledgling Browns defenses of the '80s. He brought leadership and Super Bowl experience with him from Philadelphia, where he proved to be a 7th-round steal for Dick Vermeil. Somehow the Browns got him for a 9th rounder. A fine tackler with a nose for the ball carrier, Hairston tallied 1,141 tackles and 94 sacks in his 15-year career. During the legendary double-overtime playoff win over the Jets, though eclipsed by Bernie Kosar's 489 passing yards, Hairston led a stout defense with three sacks and seven solo tackles. (I couldn't find a decent picture of him during his Browns days, but this Real Player audio clip from 1987 is classic.)
5. Jack Gregory (1967-71, 1979) — An outstanding combination of size (6'5″, 250 pounds) and speed, this Mississippian made the Pro Bowl in the successful 1969 season. His 14 sacks (including one of Joe Namath, the first in Monday Night Football history) in 1970 is tied for second on the all-time Browns single season list, but he was equally adept against the run. He reportedly clashed with coach Nick Skorich and was traded to the Giants (the Browns used one of those draft picks on Greg Pruitt). Gregory had even more outstanding years in New York before returning for one last hurrah in 1979.
6. George Young (1946-53) — George the Georgian (not the Giants' legendary executive of the same name) started for Paul Brown's first seven Browns teams. That alone proves his bona fides. Of those great teams, only once did they allow over 200 points in a season, while always tallying at least 300 of their own.
7. Rob Burnett (1990-95) — A great value as a fifth-round draft pick, this Syracuse product had 40.5 sacks and seven fumble recoveries as a Brown. One of six Browns to make the 1994 Pro Bowl.
8. "Turkey" Joe Jones (1970-71, 1973, 1975-8) — Tall and talented, Jones was drafted out of Tennessee State higher than Jerry Sherk, who turned out to be an even better defensive lineman. As Sherk wrote: "He was about 6 foot 8 and he ran about a 4.5, 4.6 40 yard dash. At times he was a great pass rusher, at other times he didn't live up to his great potential. Joe was a kind hearted person, though. You couldn't help but really like him." His nickname stems from a Browns Thanksgiving tradition, a practical joke that survives to this day thanks to gullible new players. Jones is best known, though, for a particularly punishing piledriver of a sack of the Steelers' Terry Bradshaw in 1976.
9. John Yonakor (1946-49) — The leading receiver on Frank Leahy's 1943 national champion Notre Dame team, he won All-American recognition. The Browns featured Dante Lavelli and Mac Speedie on offense, so the 6-foot-4, 225-pound Yonakor settled in nicely on defense. He is considered among the best AAFC players at his position.
Sorry, not quite:
Doug Atkins (1953-54), whose 17-year Hall of Fame career really took off after being traded to Chicago;
Willie Davis (1958-59), another future Hall of Famer whose career began under Paul Brown but only blossomed after a trade;
Ron Snidow (1968-72), who added a veteran presence to playoff teams;
Nick Roman (1972-74), the former OSU Buckeye;
Bob Briggs (1971-73), the late Heidelberg star;
Lyle Alzado (1979-81), the late wild man who twice led the team in sacks;
Sam Clancy (1985-88), the former NBA draft pick who excelled despite never playing college football;
Al "Bubba" Baker (1987; 1989-90), a great pass rusher turned barbequer;
Anthony Pleasant (1990-95) like "Turkey" Joe, hailed from Division II Tennessee State; in on 297 tackles in Cleveland
Sorry, not quite yet:
Courtney Brown (2000-present)
Kenard Lang (2002-present).
This entry was posted in