Fourth in a series that ranks the best Browns players at each position. Today's installment on WRs also includes players considered offensive ends and flankers.
1. Dante Lavelli (1946-56) — "Glue Fingers" was the favorite target of a legendary quarterback on some of the greatest football teams ever assembled. If you include AAFC stats, this Buckeye from Hudson caught more passes (386) for more yards (6,488) than any other Brown except for TE Ozzie Newsome, despite playing in the more run-oriented offenses of that era. Fresh from a three-year Army hitch, he beat out more heralded players and became the top AAFC receiver as a rookie. In the Browns' first NFL championship game, the epic 30-28 comeback over the Rams in 1950, he caught 11 passes for 128 yards and 2 TDs. A Hall of Famer, a lifelong Brown, and still active in the community.
2. Mac Speedie (1946-52) — Overcame a crippling childhood disability to become the AAFC's all-time leading receiver and appear in seven championship games in seven seasons as a Brown. More receiving yards than any other Brown except Lavelli and Newsome. Career highlights include scoring the first TD in AAFC history, holding the Browns' single-season reception record for 34 years, and rambling for a 99-yard TD on a screen pass. Read more about him here, and see him in action here.
3. Gary Collins (1962-71) — A reliable 6'4″ possession receiver and the all-time team leader in receiving TDs (70). Best known for scoring three times — the game's only touchdowns — in the 1964 championship game after publicly predicting that win over the favored Colts (five years before Joe Namath did something similar). Less known: he beat out future Boston Celtics legend John Havlicek to make the team after the Browns drafted both in 1962. Also the regular punter for six seasons. Despite spending his entire NFL career as a Brown, scoring ten or more TDs four times, and making the Pro Bowl twice, he's not yet among the Cleveland Brown Legends.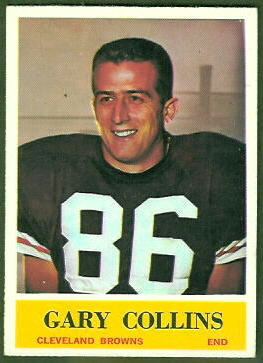 4. Paul Warfield (1964-69, 76-77) — If not for the infamous trade that sent him to Miami for many of his prime years, this local star (Warren native & OSU) and Hall of Famer likely would have topped this list. Still, he ranks second in Browns history in receiving TDs and yards per catch. Holds team career record for most receiving yards in NFL playoff games. Rare combination of athletic talents: a deep threat with dependable hands and excellent blocking skills. Led a championship team in receiving as a rookie. First Browns receiver to notch a 1,000-yard season.
5. Ray Renfro (1952-63) — In 12 NFL seasons, all as a Brown, this speedy flanker averaged a team-record 19.6 yards per catch. Second in receiving yards (5,508), third in receiving TDs (50). Scored twice in the 1954 championship game win over Detroit. Pretty good value from a fourth-round draft pick.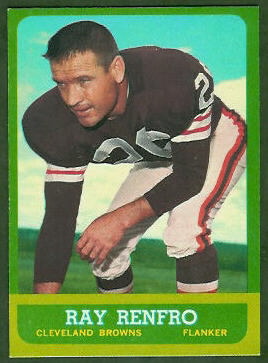 6. Reggie Rucker (1975-81) — Combined with Newsome and Dave Logan to give Brian Sipe plenty of potent options in the Kardiac Kids' offense. After starting in a Super Bowl as a rookie and playing several years as a Patriot, Rucker led all NFL wide receivers in receptions in his first year in Cleveland. Led team in catches three years, in yardage four times. An interesting life story too.
7. Webster Slaughter (1986-91) — A nifty little speedster who led the Kosar-era Browns in receptions and yards three straight years, including a franchise record 1,236 yards in his Pro Bowl 1989 season. The sole 1986 Browns draftee to make the even slightest impact on the NFL. Racked up 114 yards on just three catches — two of them for scores — in the dramatic 34-30 playoff win over Buffalo in 1990.
8. Dub Jones (1948-55) — A 6'4″ flanker, Jones amassed 4,665 yards from scrimmage as part of the Browns' powerhouse offense. Scored the team's first NFL touchdown on a 59-yard pass from Otto Graham in the 1950 trouncing of the league champion Eagles. Best known for scoring six TDs in a 1951 game against the only team, the Bears, to equal that feat, in the persons of Ernie Nevers and Gale Sayers. Neither of them sired an NFL quarterback though.
9. Darrel "Pete" Brewster (1952-58) — Led Browns in receptions and yards three straight years (1955-57). Hauled in seven passes for 182 yards and 3 TDs in a 62-14 win over the Giants in 1953.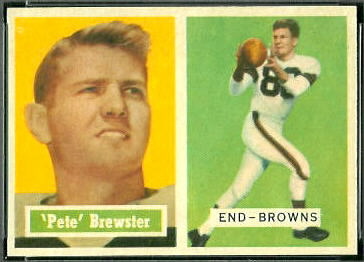 10. Brian Brennan (1984-91) — A steady, professional receiver who excelled as the third-down/possession complement to Slaughter and Reggie Langhorne. Good hands (he held for placekicks), good character, good under pressure. Career passing stats: 2-for-2, 68 yards, 1 TD.

11. Dave Logan (1976-83) — Athletic enough to be drafted in three sports, Logan used his 6'5″ height to good effect, not only on offense, but to defend Hail Mary passes on occasion, as I recall. He now does the play-by-play for Broncos games.

12. Reggie Langhorne (1985-91) — As Bernie Kosar wrote last year for this site, "Webster could stretch the field; Brian had the guts to catch the ball over the middle; and Reggie could do both." A 7th-round pick from a small school, Langhorne was a solid starter for the playoff teams of the late '80s, racking up 261 catches for 3,597 yards and 15 TDs.

13. Kevin Johnson (1999-2003) — Plenty of impressive statistics from his time in Browns Town, though we all know there's more to the game than numbers. Not particularly big or fast, he nonetheless provided some of the best highlights for the reborn Browns — the Hail Mary catch in the Superdome for their first win (shown below), the entertaining experiment behind center against the Eagles for the QB-depleted 2000 team, the go-ahead TD in the crucial 2002 win against the Falcons, and the 83-yard catch-and-run that opened the wild playoff game in Pittsburgh the next week. As I wrote upon his release last season, KJ was the most reliable and productive receiver on teams that otherwise could barely move the ball.

14. Michael Jackson (1991-95) — The Browns found a playmaker in the 6th round with his combination of size and speed. Ranks 8th in Browns history with 26 receiving TDs. Caught seven passes for 122 yards to help Bill Belichick beat his mentor, Bill Parcells, in the 1994 playoffs.

Sorry, not quite: Preston Carpenter (1956-59), Rich Kreitling (1959-63), Gern Nagler (1960-61), Fair Hooker (1969-74), Frank Pitts (1971-73), Ricky Feacher (1976-84), Keenan McCardell (1992-95), Dennis Northcutt (2000-present), Quincy Morgan (2001-present).

This entry was posted in