Third in a series that ranks the best Browns players at each position.
1. Frank "Gunner" Gatski (1946-56) — As with the TE and QB picks, this choice is a snap: go for the only Hall of Famer in the category. Gatski, the strong, silent type, was a four-time All-NFL selection. Among the remarkable facts from his Canton bio: he never missed a game or practice in high school, college or pro football. Can you imagine that kind of durability in a lineman today? And consider he weighed just 233 pounds!
2. Tom DeLeone (1974-84) — This former OSU Buckeye was drafted by the Bengals, but upon arriving in Cleveland, he settled into the middle of the line that gave Brian Sipe time to throw and room for the Pruitts to go for most of a decade. Two-time Pro Bowler turned U.S. Customs special agent.
3. John Morrow (1960-66) — Paul Brown traded away Pro Bowl center Art Hunter to get this one-time 28th-round draft pick from the Rams. The former Wolverine developed into a two-time Pro Bowler himself, starting seven seasons on an exceptional Browns offense.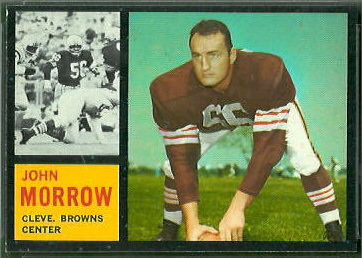 4. Fred Hoaglin (1966-72) — The Alliance, Ohio, native was picked in the 6th round of the 1966 draft out of Pittsburgh and soon worked his way into the lineup, making 69 straight starts for those playoff teams of the late '60s. Won Pro Bowl honors for his 1969 season.
5. Mike Baab (1982-87, 1990-91) — This cattle-fed Texan was a tough guy in the trenches, once coming back to practice only two days after having his knee scoped. The Browns unwisely dealt him to New England, but then signed him as a free agent two years later. Now competes in those Scottish games competitions you may have seen on ESPN.
6. Art Hunter (1956-59) — Notre Dame alum succeeded the great Gatski and had one Pro Bowl season under Paul Brown before going to the Rams in exchange for Morrow.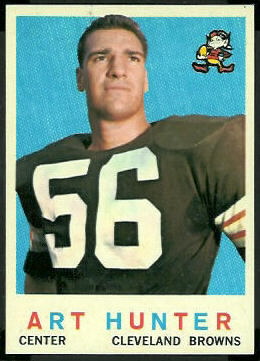 7. Steve Everitt (1993-95) — Bill Belichick drafted this Wolverine in the first round and immediately plugged him into the middle of an offense in transition. This long-haired artist combined brawn and brain. When the Browns left town, Everitt could tolerate only one season as a Raven, earning a fine and the eternal admiration of Browns fans for sporting a Browns bandana during a game.

8. Dave Wohlabaugh (1999-2002) — The rest of the reborn Browns offensive line was in continuous churn, but this veteran technician started 55 games in four years, lending a semblance of stability to a subpar unit.

Sorry, not quite: Bob DeMarco, Gregg Rakoczy, Jay Hilgenberg (the 1992 starter, acquired for a fourth-round pick, and the son of Jerry, another Iowa center, on whom the Browns spent their fourth-round pick in 1954).

In researching this position, I was surprised to find that the Browns have had five Pro Bowlers in the middle of their O-lines over the years. I'll be more surprised if Jeff Faine, last year's first-round pick out of Notre Dame, does not eventually join those ranks. With a little good fortune, Faine might one day climb to as high as #2 on this list.

This entry was posted in Uncategorized and tagged