The new Browns have become known for their rapid turnover at quarterback, 20 different starters since 1999. That's a lot, of course, but it is contextualized and partly explained by this equally astounding figure: over the same time frame, Cleveland has started 39 different men at the two offensive guard positions.
(Try this quiz to see how many you can name.)
In other words, a Browns starting guard has kept the position less than 13 games on average. Over the course of 15-plus seasons, they've installed about two-and-a-half new starters each year.
The longest lasting? Eric Steinbach, 62 games from 2007-2010, and Shawn Lauvao, 44 starts from 2010-2013.
One of several blatantly bad personnel decisions at guard was allowing Shaun O'Hara to leave in free agency after he'd started 38 games from 2000-2003. He ended up making three Pro Bowls in seven years as the Giants' center.
The highest draft pick the Browns have spent in this area came this year after they showed no interest in re-signing the free agent Lauvao. Here's second-rounder Joel Bitonio, writing in MMQB about his adjustment to the NFL and to adulthood in general.
After all the flame-outs and flakes, heavy-footed hole-patchers, creaky vets and leaky threats to our quarterbacks' well-being, I like what I'm seeing from Bitonio, who may be the first guard dawg of the new era to earn post-season accolades. Let's hope he holds up, because we've already seen serious statistical shrinkage with the need to plumb the depth chart. He's quickly become the Browns' only indispensable rookie.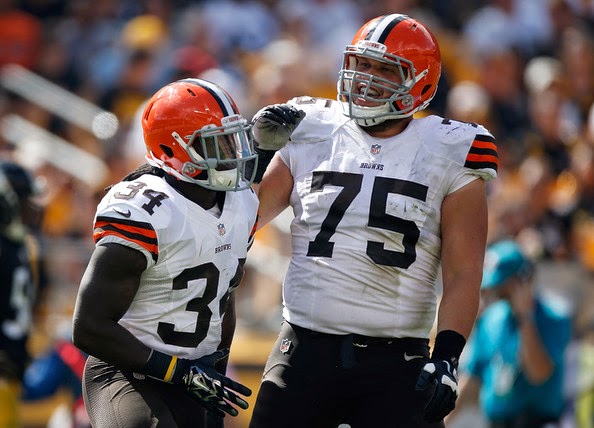 Gregory Shamus/Getty

This entry was posted in