So my four-year-old son, wiped out from an afternoon frolicking at a birthday party, settles onto his dad's lap during the third quarter of yesterday's Browns game. He knows I like the Browns. He wants them to do well. He's even a member of their Kids Club.

But of course he doesn't understand the game at all. That's fine with me. I'm more than happy to patiently explain the basics to him as they unfold together before our eyes.

The very first play we behold is DA getting picked clean by Ed Reed for that touchdown the other way. "OH NO!" I yell, alarming him.

"What, Daddy?"

So I tell him what happened, and that it is Very Bad, especially because it's the Dreaded Ravens. (He may not yet get the concept of first-and-ten, but he can relate the story of something being taken away from you.)

For several minutes, I try to translate the calamity occuring on the screen into a calm, simplified lesson on the basic structure of football. Elliot wants me to name all the different penalties. I want him to grasp how the Browns are trying to move the football into the end zone and stop the Ravens from doing the same.

It isn't really working. "Is it kind of like wrestling?" he asks.

Well, yes and no. I want him to see the Browns push the Ravens out of the way to move the ball downfield or protect the quarterback so he can play catch with another Brown.

It isn't working at all.

I fear the main lesson he is absorbing is that the Browns are losing again. There are much better things to do than witness abject failure.

I suggest he might want to go outside before dinner is ready. His feet happily patter toward the door.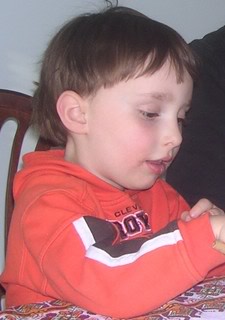 This entry was posted in