Quick: which Browns receiver was named to the NFL's All Decade Team for the 1960s?
No-brainer. Gotta be Hall of Famer Paul Warfield, right?
No? Hmmm. Must be a trick question.
Then how about Hall of Famer Bobby Mitchell, the halfback who put up more spectacular numbers in Washington after a switching positions?
Nope.
That leaves Gary Collins. The former fourth-overall draft pick, league-leading punter, and hero of the '64 title game was chosen for the honor by the Hall of Fame selection committee back in 2000.
His name is getting more attention lately due to Braylon Edwards tying his 44-year-old franchise record of 13 touchdown receptions. He'll even be the team's guest of honor at the Bills game. It's an encouraging sign that the current organization respects its connection with the past. And it's yet another good reason that the Browns' heritage remains alive in Cleveland, despite the treachery of the '90s.
A long-time reader posted an interesting memory of a clutch Collins catch on fourth-and-19 early in the '64 season, without which he may have never had the chance for his hat-trick heroics against the Colts.
Without getting into the politics and probabilities involved with getting into Canton, here's my personal list of Browns who ought to be inducted.
Gary Collins. I still don't get why it took the Browns four years to honor him in its annual Legends class. No Brown is even close to his 70 career receiving touchdowns. It's also more than such HOF receivers as Raymond Berry, Michael Irvin, John Stallworth, and Lynn Swann.
Mac Speedie. If he hadn't played four years in the AAFC, whose statistics aren't officially recognized, and then spent his final three seasons in Canada, there's no question this great receiver would have long since been enshrined. He still deserves it, even posthumously, especially if you compare his numbers to his Canton contemporaries.
Blanton Collier. He's sixth among all coaches in winning percentage, yet he's one of just two in the top 10 who hasn't been inducted. He took Paul Brown's cast and got the results that lately had eluded the legend.
Clay Matthews. No linebacker in the Hall of Fame played more than 15 seasons. In fact, no linebacker in history has started more games than his 248. Four Pro Bowls, a Browns best 76.5 sacks, and a memorable blend of durability, flexibility, consistency, and popularity.
Dick Schafrath. Many of the arguments that eventually carried the day for Gene Hickerson apply equally well for the man who lined up to his left. A fixture at left tackle, the six-time Pro Bowler shared some responsibility for the Browns' great running success throughout the '60s, plus he protected the blind side of pocket passers Milt Plum, Frank Ryan, and Bill Nelsen, all of whom enjoyed their best success in Cleveland.
Marty Schottenheimer. He never won the big one, but neither did George Allen. The the architect of the great Dawg defense of the '80s, he took over a 1-7 team in '84 and immediately won half of the remaining games and then made the playoffs each of the next four years. Only five coaches in history have won more games, so when he becomes eligible, he deserves strong consideration.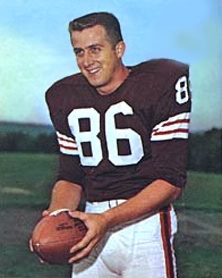 This entry was posted in