Twelfth installment in a series that ranks the best Browns players at each position.
1. Lou Groza (1946-59; 1961-67) — 6'3″ 240, Ohio State. "The Toe" didn't just fill a spot on the line to keep busy in between placekicking duties. In the era of 33-man rosters, he was a great left tackle too, earning All-Pro honors at that position six times and being named the 1954 NFL Player of the Year. Whereas pass protection is the key priority for a modern left tackle, the running game was the thrust of an offense in Groza's era. He wasn't a nasty mauler type, but his superior technique more than got the job done for the bulk of 14 straight seasons. (A back injury cost him the 1960 season, and he focused on kicking thereafter.) The only Brown to block for both Marion Motley and Jim Brown, Groza proved in the trenches that his own enshrinement in Canton wasn't just for kicks.
2. Dick Schafrath (1959-71) — 6'3″ 253, Ohio State. If anyone could begin to fill Groza's big shoes, it was this Canton native who was raised in Wooster, went to Ohio State, and then played 176 games, all for the Browns. Ordered by Paul Brown to gain weight, he entered eating contests all over Ohio, then tried to sneak by wearing an iron jockstrap to his weigh-in. Made six straight Pro Bowls as a blocker for four Pro Bowl backs during that period. This Cleveland Browns Legend ought to be in the Hall of Fame, but if only one Browns lineman from the '60s can make it, I'll root for the man who played next to him, Gene Hickerson. After all, Schafrath — a state senator for four terms — has already had plenty of experience being elected.
3. Mike McCormack (1954-62) — 6'4″ 246, Kansas. After Pro Bowl rookie year with the old New York Yanks and a two-year hitch in the Army, McCormack's Hall of Fame career came in Cleveland due to his inclusion in a 15-player trade with the Colts. In his first year here, he succeeded the great Bill Willis as the middle guard on defense, and the Browns won the title. In '55, he settled in at right tackle and the Browns repeated as champs. With no real weakness in his game, McCormack became, in Paul Brown's words, "the finest offensive lineman I've ever coached," earning Pro Bowl honors five more times. He later moved to the sidelines as an NFL coach and to the front office, where he found more success as president of the Seahawks and Panthers.
4. Doug Dieken (1971-84) — 6'6″ 250, Illinois. A converted tight end, this sixth-round pick amazingly became even more of a fixture at left tackle than the two greats he succeeded. He played 203 games in a row, starting 194 of them, both franchise records. One of three Browns offensive lineman to make the Pro Bowl in the Kardiac Kids season of 1980. Diek was a stalwart Steeler hater during some tough times (he recovered four of his teammates fumbles during the horrid 1975 season). His resilience was a function of toughness, yes, but also of a great sense of humor, which he continues to inflict on Browns fans as their radio color man.
5. Lou Rymkus (1946-51) — 6'4″ 231, Notre Dame. Lee Suggs is the latest Brown to wear 44. Lou Rymkus, a rough-edged Chicagoan and Frank Leahy protege, was the first. After a year protecting Sammy Baugh and a few more protecting America in the Navy, Rymkus earned his reputation for toughness keeping defenders out of Otto Graham's face. He started for six strong seasons at right tackle, retiring after the first title game that the Browns couldn't capture. The 1988 "old-timer" Hall of Fame nominee — the route that got Bill Willis, Frank Gatski, and Leroy Kelly enshrined — Rymkus, like nominee Mac Speedie in 1983, was passed over. As the first coach of the Houston Oilers, he won the AFL title in 1960 but was fired midway through 1961 and never got another chance at that level.
6. Cody Risien (1979-83; 1985-89) — 6'7″ 269, Texas A&M. His fine Browns career started and ended in pain. His father died during his rookie training camp, and coach Sam Rutigliano had to talk him back into football. The 7th-round pick started at left guard as a rookie, then moved to right tackle during a remarkably consistent career, considering he underwent surgery ten times. When he missed the 1984 season due to a knee injury sustained in the fourth quarter of an exhibition game, it was the beginning of the end for Rutigliano, as lefty QB Paul McDonald was sacked 53 times. A two-time Pro Bowler, Risien, Clay Matthews, and Ozzie Newsome were the only 1980 Kardiac Kids to play in all three Kosar-era championship games. He deferred knee surgery to play through 1989, and when he was done, so was the string of five playoff seasons.
7. Tony Jones (1988-95) — 6'5″ 291, Western Carolina. A raw undrafted talent, he eventually won Bill Belichick's respect as one of the league's best pass blockers. Jones started 96 straight games for the Browns, mostly at left tackle, and was a team captain by the time the franchise was uprooted. The Ravens' first draft pick was his eventual replacement, Jonathan Ogden. Jones landed on his feet a year later, getting traded to Denver, where he won two Super Bowls, but he retained a fondness for Cleveland. However, his awkward flirtation with coming back to the Browns in 2001 eventually ended in his retirement.
8. Monte Clark (1963-69) — 6'6″ 260, USC. A savvy competitor on some excellent offensive units, Clark played mostly right tackle after arriving from Dallas in exchange for All Pro guard Jim Ray Smith. He blocked for the NFL rushing leader in five of his seven seasons as a Brown. After retirement, he helped coach the Miami Dolphins' great rushing offenses of the early '70s. He was the runner-up for the Browns' head coaching job in 1975, but Art Modell chose Forrest Gregg instead. Clark later got his chance with the 49ers (the team that originally drafted him) and the Lions.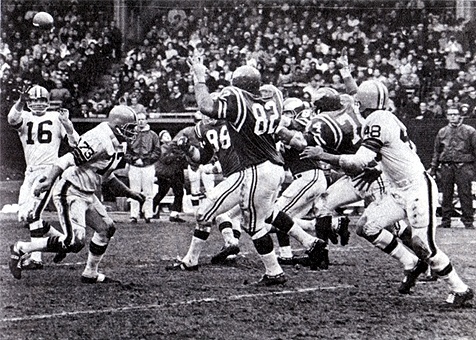 9. Paul Farren (1983-91) — 6'5″ 280, Boston U. The downfall of the Kosar era, perhaps more than anything, was the lack of a cohesive offensive line. Farren did all he could to fill in the breach. While never a great player, the 12th-round pick was certainly a great value. He played every line position except center, but most of his action came at the critical left tackle position. The athletic Rickey Bolden was a better fit for that job, but he got hurt year after year. Over slid the determined Farren, and the Browns' record was actually better with him at LT than without.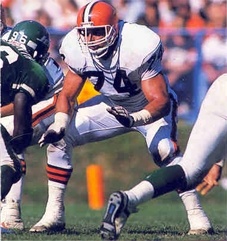 10. John Sandusky (1950-55) — 6'1″ 251, Villanova. The first offensive tackle taken in the 1950 draft, he bridged the years between Rymkus and McCormack on the right side and, as was typical of players in that era, also played defense. He was one of six starters on the 1954 Browns who would eventually become pro head coaches. (He's #78 at left.)
Sorry, not quite:
John Brown (1962-66)
Bob McKay (1970-75)
Barry Darrow (1974-78)
Ryan Tucker (2002-present)
(Your comments are welcome as always, but please don't even get me started on Zeus or Verba.)

This entry was posted in