Rookies will report to Berea in just two more days, and the first open practice of the Browns' 2016 training camp is next Friday.
Fans will have 11 chances to witness practices in person for free, a tradition dating back to the early 1990s. The team has been working to move training camp to the Columbus area, but backlash ensued, and the notion didn't reach fruition this year.
While the Browns' administrative offices and practice facility are likely to remain in Berea for years, it seems that the franchise remains very interested in some sort of deal to expand their footprint by moving training camp farther afield.
One piece of evidence is the return to the Shoe (rather than First Energy Stadium) for the intrasquad scrimmage on August 6.
Another: the Haslams have yet to monetize the naming rights for the Cleveland Browns Training Facility in Berea. Here's a league-wide breakdown of teams' training camp facility names:
Corporate branding: 13. (e.g. the 49ers own the Santa Clara site of their training camp, the SAP Performance Facility)
College/university: 10. (e.g. St. Norbert College has hosted the Packers during training camp since 1958, though the team commutes from there to Lambeau Field for practices and meetings)
Team-based names: 6 (CIN, CLE, DEN, DET, SD, and TB).
Private resorts: 2 (the Saints train at The Greenbrier in West Virginia, and the Raiders train in style at Napa Valley)
Municipal: 1 (the Cowboys train at the city-owned River Ridge Playing Fields in Oxnard, CA).
Surely in the course of exploring and negotiating the Browns' long-term training camp plans, they'll be factoring in the potential value of the naming rights to the Berea facility. Probably as an opportunity cost.
In the meantime, they've been sidetracked a little bit by the need for an astoundingly thorough overhaul of their front office, coaching staff, and roster. Minor snag, eh?
So take this post as kind of an aside. Stick it in the back of your mind. And if you're in the Cleveland area, maybe walk the Browns-striped Beech Street to get to one of those free practices in Berea while you still can.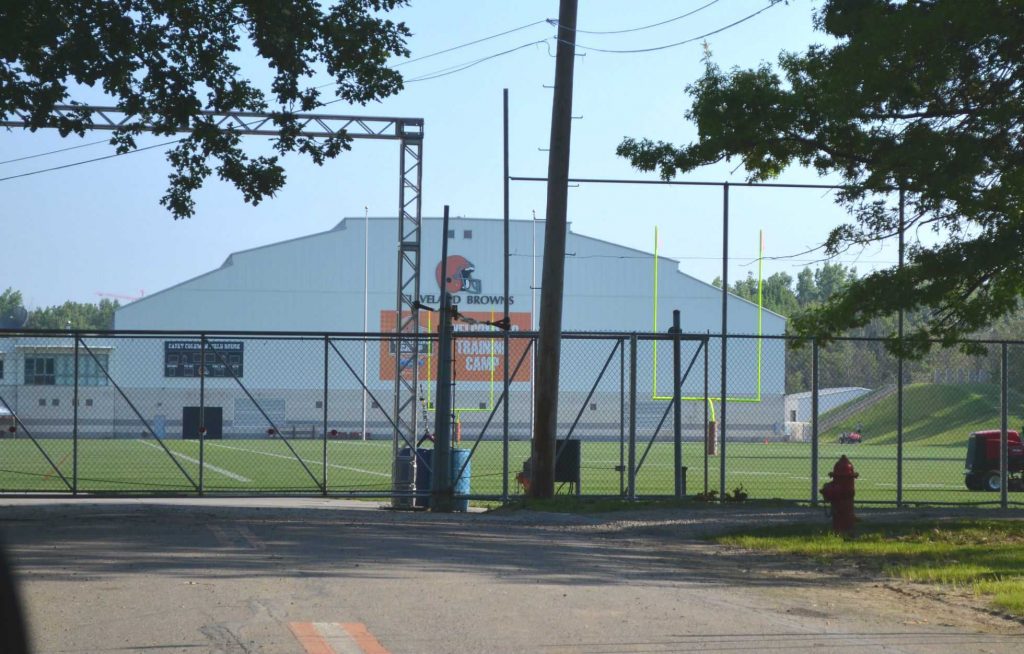 This entry was posted in