What marvelous commentary is left to offer on the latest Browns stinker, its league record 11th straight opening day defeat? That was a Cleveland team as reckless as their coaches were gutless.
Name me the last NFL team whose top two leading rushers in a game were both quarterbacks.
And if Jimmy Haslam's decision to fire Chud in 2013 immediately followed a lackluster effort against the Jets, what exactly did we see to redeem Mr. Pettine's performance yesterday? He failed to challenge a questionable Brandon Marshall sideline catch that led to a score. The saved timeout was squandered when he let the clock run out on the first half. The in-game adjustments all worked to the Jets' advantage.
His squad was worse than outmatched by a far-from-elite Jets team; it was undisciplined, as a dozen penalties and five turnovers so decisively showed.
Josh McCown, the third-oldest quarterback ever to start for the Browns, apparently absorbed no lesson from the hits he let himself take two weeks back against Tampa Bay. Pettine later absolved his quarterback of fumbling and getting concussed when he launched himself toward the goal line in the first quarter.
"I don't know how you coach a competitor, a real football player, to slide there."
If that's so, there is apparently much, too much, that Pettine doesn't know. That would include how to prepare a team to hit the field ready to win the games that count.
The supposed strengths of the team — the secondary and the offensive and defensive lines — were all revealed as subpar.
I don't expect every game to be as awful as that 31-10 pasting. But if the Browns don't turn it around on a dime, with two of their weaker opponents coming to town the next two Sundays, an ugly day will metastasize into yet another ugly, long season of Browns football, and another serious test of Haslam's touchy temper.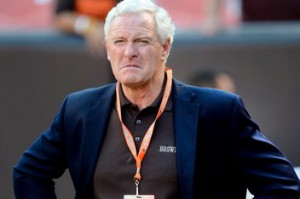 This entry was posted in