OK, I think they're for real. As you may have heard, the Browns yesterday dismantled the Steelers 31-10, their largest margin of victory in the series in a full quarter century.
There are several storylines of interest here, from the satisfaction of a convincing division win, to the season-ending broken leg of Pro Bowl center Alex Mack, to the gritty performance of the hobbled and harried Browns defense, to the prospect of continuing this roll against three subpar opponent on the immediate horizon.
Not to get ahead of ourselves, but the Browns should be favored over the Jaguars, Raiders, and Buccaneers (combined record of 1-13). If they convert, they'd be 6-2 heading into a crucial Thursday night showdown at Cincinnati. Then they'd have All-Pro receiver Josh Gordon back from suspension to face three middling teams — the Texans, Falcons, and Bills — before a challenging stretch run in December.
To focus on one aspect of the Browns success, take a look at the three-headed monster in the backfield:
They stuck with the top two yesterday, sending a message to West, the rookie third-round draftee, by benching him in favor of Glenn Winston, who, like Crowell, is an undrafted rookie with considerable upside despite some past character demerits.
Assuming West satisfies the coaches with improved attitude and pass blocking, he'll return to complete the most balanced and productive tailback ensemble in many years. They're averaging 143 yards per game, which puts them on pace for 2,288 for the season. Not since Jim Brown's peak year of 1963 have three Browns combined for as many rushing yards.
All three of them are decisive and powerful, good fits for Kyle Shanahan's zone blocking, one-cut approach. Each has his strengths and weaknesses.
Tate, the veteran, has good vision in the open field and is shifty enough to threaten the second level of defenders. But he's had injury problems throughout his pro career, and his smallish hands make him less than an ideal receiver and a fumble risk (ten in 40 games over three years in Houston).
Crowell flies off the TV screen with a very strong burst, allowing him to find and attack seams in a hurry. His biggest area to improve may be concentration. We saw a few ball-security lapses against the Steelers. As he matures, he stands to become a more complete player worthy of a higher proportion of snaps.
West finishes his runs well, leveraging his compact frame to churn ahead and fall forward for extra yards. If he could use that physicality as a pass blocker, he'd be a more viable option on third down.
While the group's rushing productivity is high, none of them has stood out as a preferred option in the passing game. Rookie fullback Ray Agnew deserves credit for some strong lead blocking, and he may be their best pass protector in the backfield.
The trio has totaled just six catches for 28 yards, mostly by West. Agnew's been targeted five times with just one reception. This indicates that the Browns could benefit if one of their talented runners could step up to provide reliable blitz pick-up and glide into the flat as a checkdown option.
Screen passes, at least to running backs, are essentially absent from the Browns' game plan.
It will be interesting to see if West remains in the doghouse, if Winston will join the rotation, how much the loss of Mack up front will hurt, and whether the Browns continue to keep their stable fresh and hungry with a balanced workload.
It's hard to argue with this kind of success. The Browns' 349 rushing yards is their highest season total against the Steelers since 1966.
Cleveland ranks third in rushing yards per game, despite no single run longer than 29 yards. Their eight rushing touchdowns leads the league.
The offensive unit as a whole averages 6.0 yards per offensive play, tied with Dallas for fifth. They're top 10 in many categories including points per game, first downs per game, and turnover margin, despite having the fewest completed passes of any team.
Yesterday, eight was enough.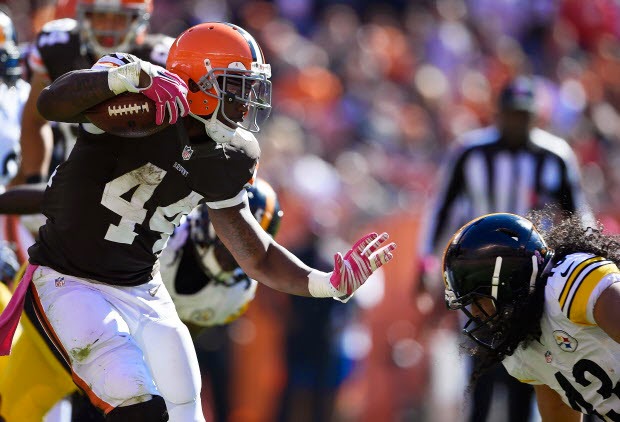 Ben Tate gears up to get past Troy Polamalu. Jason Miller/Getty photo.

This entry was posted in