Nice to see the Browns' offensive line getting some attention for the team's better-than-expected ability to rush the ball, protect the passer, and — above all — score points. All hail Joe Thomas, Joel Bitonio, Alex Mack, John Greco, and Mitchell Schwartz.
"Just stand near them and listen to them to talk," said first-year coach Mike Pettine. "They're football nerds. That's all they talk about is football. They get into some real in-depth conversations about it, and it shows on the field. They work very well together. It's a very intelligent group, and I think they're very well suited for the scheme."
The scheme.
Under new offensive coordinator Kyle Shanahan, the Browns switched to a zone-blocking scheme this season. It can be a complicated system to learn with many details and nuances. Pettine and his staff knew it would take time for the Browns offensive line to become comfortable with something so foreign.
They expected a steep learning curve. This group, though, flattened it quickly.
Pettine said he didn't expect the line to come so far this quickly.
"But when you look at the group and just how smart they are and how hard they work and the way they get coached, looking back on it, it's not a huge surprise," Pettine said.
Fox News picked up the AP piece and put it under a headline that began: "Not blockheads."
The team's in-house mouthpiece also touted the starting five this week:
The Cleveland Browns offensive line is manhandling opposing defenses through the first four games of the season. This isn't a fluke. This is who they are…
They haven't just gelled together. They are together, as one.
And the well-regarded analytics site Pro Football Focus just came out with their league-wide offensive line rankings. The Browns graded out at the very top:
It's rare the stars align like this. You've got five players who have played every snap and look like a line in sync.
These plaudits are certainly well-deserved. But at the risk of pooping in the punchbowl, there's something interesting behind all this talk of a special star alignment of a unified group of "very intelligent" quick learners up front.
I'll go ahead and say it. They're all white guys.
Not that there's anything wrong with that. And far be it from me to imply that Ray Farmer's roster reflects a systematic bias. But the particular language used to discuss this group echoes certain pre-existing identity-related narratives. If you disagree, point out profiles of some mixed-race offensive lines that similarly emphasize, for example, their "in-depth conversations" about football and their togetherness "as one."
Now on to the math. A demographic study of the NFL's opening 53-man rosters provides data as to the racial composition of the teams and of the various positions. A few fast facts:
27.66% of players are white
Black players are in the majority (67.98%) but earn less on average than any other racial category.
The positions with the highest proportion of white players, in order: long snapper, kicker, punter, center, quarterback, tight end, and guard.
49% of offensive linemen are white, compared to just 10% of defensive lineman.
Even given the relative prevalence of white offensive linemen, the Browns' situation is rare. The odds that a random draw of one center, two guards, and two tackles from the current NFL population would result in five white players is just 2.6%.
A quick look at
depth charts around the league
shows that Cleveland is the only team with all white starters across the offensive line if you include the tight end.
Counting just the interior five, aside from the Browns, only Jacksonville and perhaps Green Bay (depending on whether a player partially of Persian descent counts) have all-white starters.
This all is just observation, not accusation. Racial attitudes and aptitudes, opportunities and obstacles — well, it's all fraught with complexity and conflict.
So why bring it up?
Because no one else has.
And that's where I'll leave it for now. Take your anger out on the Steelers.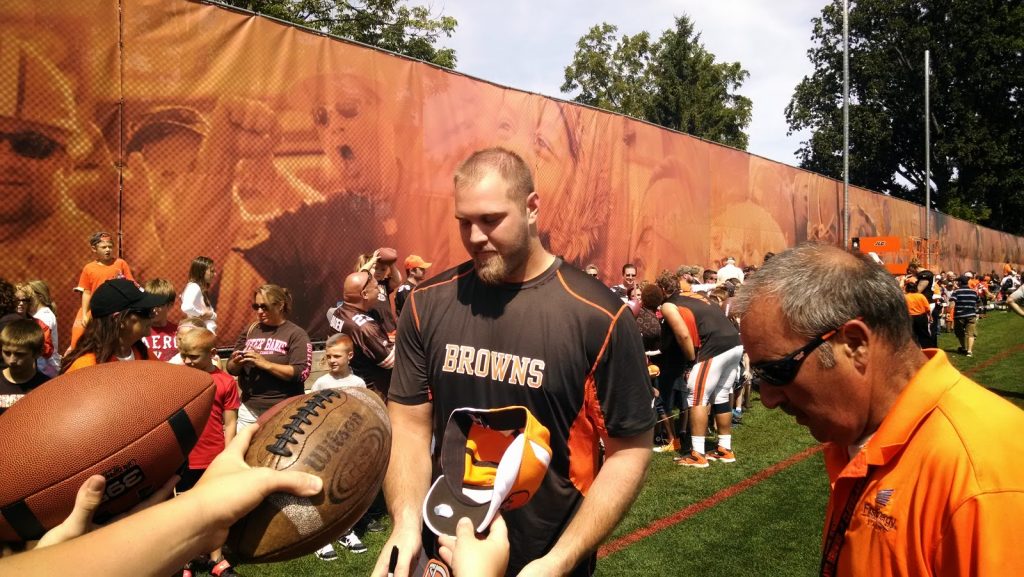 Mitchell Schwartz sports his Sharpie after training camp practice August 15, 2014

This entry was posted in