The Browns' thrilling 25-point comeback win at Tennessee yesterday was indeed historic in several respects.
It was the greatest deficit ever surmounted by a visiting team that came back to win. That's all teams, all time.
It was also the Browns' biggest comeback win ever. However, in 1947 they fell behind 28-0 to the New York Yankees of the AAFC and rallied for a tie in Yankee Stadium. So technically, yesterday was not the Browns' largest comeback.
That shouldn't dampen spirits a bit though. Because this was quite an unusual game, even as big comebacks go.
How incredibly rare must it be for a team to come back from so far to win when they
commit three turnovers in the final 17 minutes, with two nullified by penalty
fail on fourth-down conversions in consecutive second half possessions
run the ball 20 times in the second half of a game they were losing by 18
start the fourth quarter down 15 points and rush ten times for 37 yards, including just two yards on each of their final five carries
allow the opponent to convert eight of 14 third downs, opposing QBs a rating of 123.6, and opposing runners 149 yards at five yards a pop?
Special thanks to Titans coach
Ken Whisenhunt
for his foolish decision to go for it on fourth down at his own 42, nursing a six-point lead with 3:09 to go. Squandering a timeout on a hopeless challenge after the whistle blew on
Charlie Whitehurst
's stuffed sneak also proved helpful in the end.
This was the third straight Browns/Titans clash in Nashville in which the home team scored exactly 28 points.
The game there 12 years ago was another of the most memorable comebacks in franchise history, as the Browns allowed a touchdown to trail by 14 points with just five minutes to go. As with yesterday, the Brown best known for punt returning was instrumental in the comeback.
In 2002, it was
Dennis Northcutt
, who recovered an onside kick and scored the tying touchdown with 18 ticks left in regulation.
Yesterday, of course, it was similarly slight
Travis Benjamin
, who's struggling on punt returns but hauled in two exciting fourth quarter touchdown catches, matching the career total he brought into the season.
And any post on this game would be remiss without mention of the pride of North Olmstead,
Brian Hoyer
, the comeback quarterback whose personal story is rightly eclipsing the
Johnny Manziel
mania. After just four games, the six-year veteran has already set has career highs in completions, yards, and touchdowns. It was a good week for last year's ACL surgery patients.
Don't look now, but Hoyer's on pace for a 4,000-yard passing season, which would be just the second in franchise history, the other belonging to another beloved Brian, 1980 league MVP
Brian Sipe
.
And now it's Steeler week, this time in Cleveland, to determine whether Mike Pettine's team — with the schedule's soft underbelly to follow — is really ready to compete for their first division title in 20 years.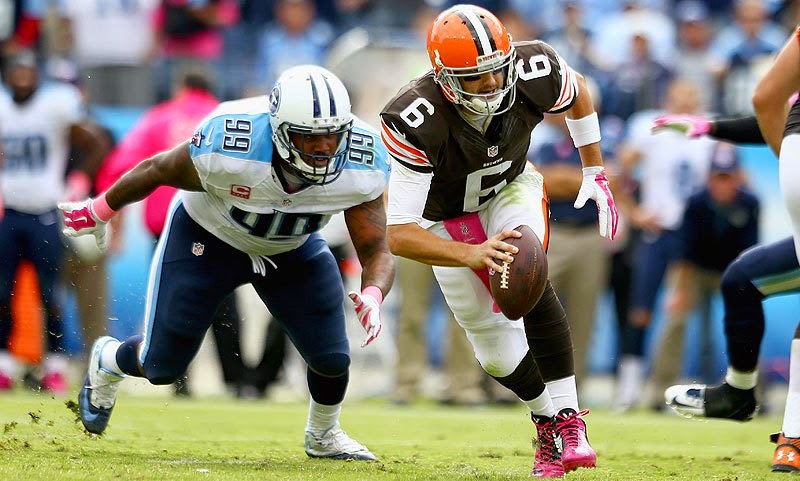 Andy Lyons/Getty Images

This entry was posted in