After a close loss, each mistake deserves scrutiny as a possible difference-maker. The Browns' performance against the Ravens yesterday provides many such, shall we say, opportunities.
But emotionally, I'm just not up for elucidating every error.
Whether due to coaching judgment, coordination, or execution, the Browns deserved their fate, another last-minute loss to a division arch-rival, this time at home.
It's ironic that despite the narrow loss, many fans maintain that this team is head-and-shoulders above last year's edition. Anyone can find evidence to support their hopeful views, but this is a bottom-line sport. The 2013 Browns thumped the Ravens in Cleveland, 24-18, with stout run defense, five sacks of Flacco, and the last hurrahs of two otherwise pariahs, Davone Bess and Greg Little.
So yesterday's see-saw suckitude was in no way a moral victory.
Another tendency of many fans is to advocate the ouster of their perceived goats. The special teams unit now sits on this hot seat. But there's a balance to strike between accountability and continuity. If the former boils down to job loss, how does this cultivate a culture of stability that everyone agrees is intrinsic to winning programs? What does this say about faith in the potential for growth, learning, development, improvement, redemption?
To cite one case, Travis Benjamin, returning from ACL surgery, is struggling at fielding punts. In yesterday's wind he muffed one and let another fall to be downed at the Browns' 7. Will benching him restore his confidence? Should rookie cornerback Justin Gilbert, still struggling to adjust on defense, add punt return duties to his docket? Not in my eyes.
Maybe drop veteran Jim Leonhard deep when a midfield punt just needs a fair catch. But here are the speedy Benjamin's career averages: 14.6 yards per punt return, 30.7 on kickoffs, 17.5 per reception, and 13.2 per rush. You can be frustrated that he seems tentative back there this year, but a constructive solution will come with practice and persistence, not petulance and punishment.
During this bye week, clearly the Browns must react, but they ought not be reactionary. That alone would be a culture shift.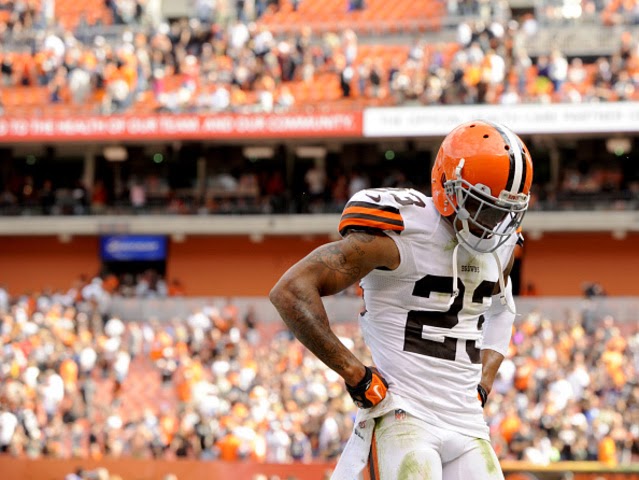 This entry was posted in