The 1-2 Browns return to action this Sunday in Nashville to face the 1-3 Tennessee Titans, whose head coach is Ken Whisenhunt (Browns' 1999 special teams coordinator) and defensive coordinator is Ray Horton (same job with 2013 Browns).
Another Cleveland connection is Kamerion Wimbley, the Titans' 30-year-old defensive end, who holds the Browns rookie record with 11 sacks, a total he never again attained during a lengthy and largely healthy career.
The betting lines put the host Titans as a slight favorite, but the point spread is narrowing, and there's some history to hold out in the Browns' favor. Here are the Browns' results in their first game after the bye week:
2013 Week 11: lost 41-20 at Cincinnati, which finished 11-5
2012 Week 11: lost 23-20 (OT) at Dallas (8-8)
2011 Week 6: lost 24-17 at Oakland (8-8)
2010 Week 9: won 24-14 over New England (14-2)
2009 Week 8: lost 16-0 to Baltimore (9-7)
2008 Week 6: won 35-14 over New York Giants (12-4)
2007 Week 8: won 27-20 at St. Louis (3-13)
2006 Week 7: lost 17-7 to Denver (9-7)
2005 Week 5: won 20-10 over Chicago (11-5)
2004 Week 9: lost 27-13 at Baltimore (9-7)
2003 Week 10: lost 41-20 at Kansas City (13-3)
2002 Week 11: won 27-20 at Cincinnati (2-14)
2001 Week 8: lost 27-21 (OT) at Chicago (13-3)
2000 Week 17 (last week of regular season)
1999 Week 17 (last week of regular season).
To summarize:
The "new" Browns are 5-8 (.385) coming off the bye, which is slightly better than their 71-136 (.346) regular season record from 2001-2013.
The schedule-maker sent the Browns on the road eight of those 13 years. They've gone 2-6 on the road after the bye, 3-2 at home.
Those three home wins were among the most impressive Browns games of this era, all coming against teams that would win division titles.
The Browns are 2-0 against teams that would end the season with a losing record.
Putting their bye at season's end in both 1999 and 2000 is yet another way that the league disadvantaged the reborn Browns franchise.
Only 13 games in pro football history have ended with a score of 41-20. Two of them made this list, each one dealing the Browns' their sixth loss of the season, effectively extinguishing any playoff hopes.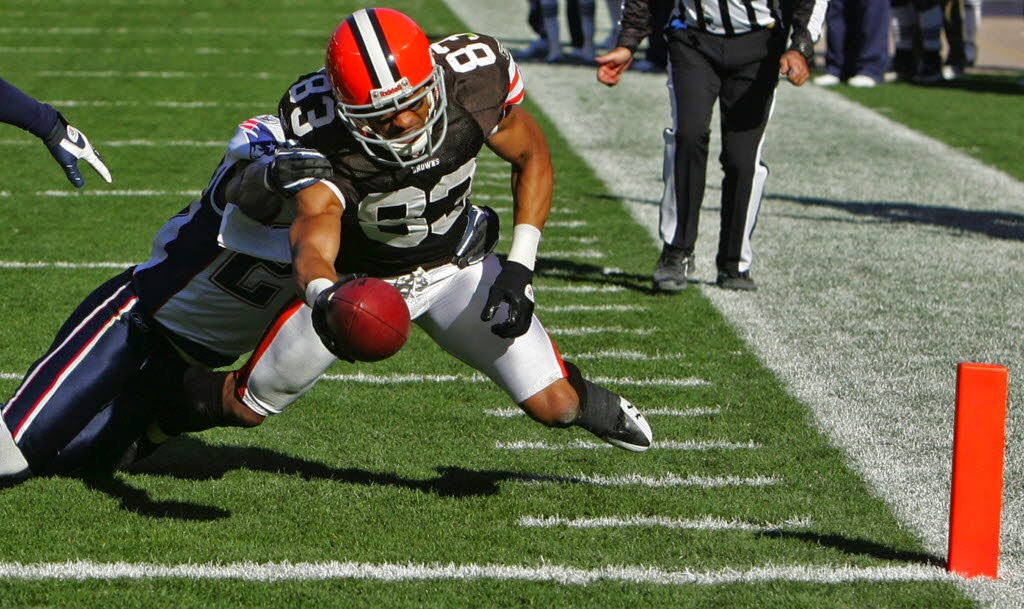 Chansi Stuckey scores on a fumblerooski-ish gadget play
in a 2010 upset of New England. (Plain Dealer photo)

This entry was posted in