Sorry to be a few days late with the news, but I didn't want the death of George Ratterman to pass without a brief appreciation.
I'm too young to have seen him play, but Ratterman deserves recognition for his unique place in the history of the Cleveland Browns.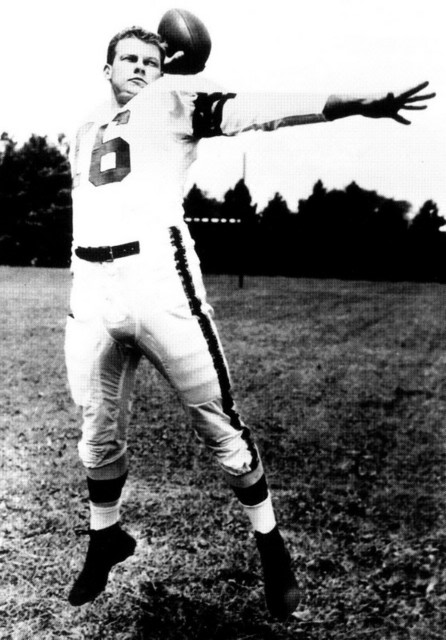 He may not have been the last Ohio native to attend Notre Dame and become a backup quarterback for the Browns, but he was the first. He may not have been the first George to call signals for Notre Dame, the original Buffalo Bills, and the Browns, but he was the finest. He was also the first to receive signals, radio signals, that is, direct from innovative coach Paul Brown on the sidelines.
When Ratterman joined the Browns, he had five years of pro experience under his belt but was still only twenty-five. He was good enough that he could have stepped into a starting job with several teams, yet Cleveland was the only team he contacted. Ratterman was that impressed with Paul Brown and the Browns organization, and he wanted to be a part of their dynasty. He thought them the best football team he'd ever seen…

Ratterman was a practical joker who even played jokes on Paul Brown, a man not known for his sense of humor and one who did not consider anything concerning football to be at all funny. One of Ratterman's best stunts was in 1949 while he was with the Bills. He was a member of the AAFC all-star team that played against the Browns in Houston that December.

Several days before the game, he called the front desk of the hotel where the Browns were staying, identified himself as Paul Brown, and instructed the hotel operator to call all of Cleveland's players and notify them that the team's practice scheduled for that day was cancelled. Brown soon remedied matters but apparently never knew that Ratterman was the perpetrator of the joke.

Ratterman's reputation as a joker should not obscure the fact that he was a good quarterback. He had four good seasons with the Bills and Yanks and was a second-team all-league selection in 1947 and 1950. He was a more than adequate backup for four years behind Graham. Although he didn't play often, the Browns barely missed a beat when he did. He numbers during those four years — 89 for 147, good for 1,290 yards and fourteen touchdowns with only eight interceptions — work out to a passer rating of 98.2. That's very good for any era and superlative for the 1950s.

Upon succeeding the retired Graham, Ratterman became an early victim of the Sports Illustrated jinx. In the fourth game of the 1956 season (after going 14-for-17 in a win at Pittsburgh), he ripped up his knee against the Redskins and never played again. He was 29.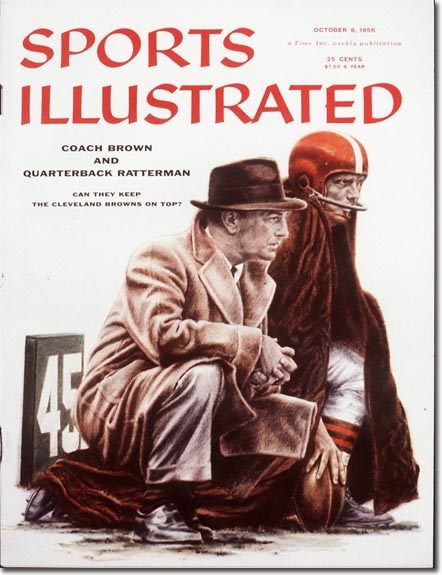 It was just the start of a long, varied, productive life on many levels. And now, after confronting Alzheimer's disease (as did Graham), he's reached the ultimate end zone. Sympathy to his many, many friends and relatives.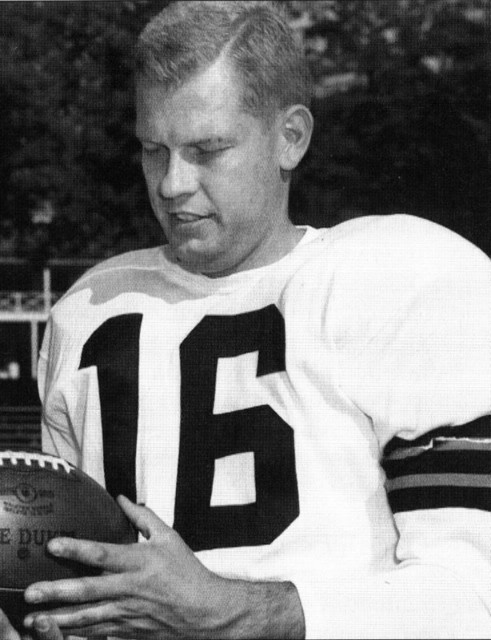 This entry was posted in