Had the life and times of the late great Bill Willis received more than one twentieth of the attention given to the sudden death of Sean Taylor, there would be more justice and virtue in this world.
In the few minutes I have today, there's no way I could properly represent all that Willis meant to football, Ohio State, the Browns, and society in general. Through the full force of his talents and character, he changed the game in more ways than one.
For a more complete look at his life and times, check out some of the stories linked above, certainly this
video, and his section at the Hall of Fame site.
Just a few quick side notes:
Four black players reintegrated pro football in 1946, but while former UCLA stars Kenny Washington and Woody Strode were signed as a result of financial pressure placed on the newly-relocated L.A. Rams, who desperately wanted to use the huge Coliseum as their home field, Willis joined the fledgling Browns at Paul Brown's invitation, based solely on the merits of his character and ability.
And only when he proved indispensible as a cat-quick lineman did Brown issue the call to Marion Motley to come to the inaugural training camp at Bowling Green. Had Willis not excelled from the start, it is entirely conceivable that there would be three fewer Browns Hall of Famers, and their great dynasty of 1946-55 would have been far inferior.
Willis was great for his entire career, but since many of the obituaries mention a single famous play, it's worth putting it into context. It occured in the tiebreaking playoff game in 1950, the Browns' first NFL season. Their opponent was the only team that had beaten them all year, the New York Giants, who did it twice. Had Cleveland lost, the legitimacy of their previous four-year dominance of the competing All-America Football Conference would have been seriously diminished.
On a frozen Municipal Stadium field, Cleveland clung to a tenuous 3-0 lead in the fourth quarter. From the Browns' 36, Giants back Choo Choo Roberts found daylight around right end and had no one between him and the go-ahead touchdown. In Andy Piascik's words:
But Willis angled over from his middle guard position and took off in pursuit. Making up almost 5 yards, Willis brought Roberts down at the 4. "All I could think of was that number on Roberts's back represented the championship running away from me," Willis said later.
The Browns' defense held New York to a tying field goal, then took the lead on a field goal drive featuring QB Otto Graham's running skills. They won 8-3 and went on to capture the NFL title the next week in one of the league's all-time classic games.
My condolences to the family and friends of one of the very greatest of all the Cleveland Browns.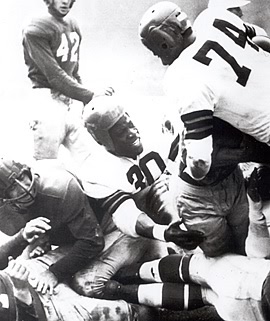 This entry was posted in